dir Michael Winterbottom
scr John Curran, Michael Winterbottom
prd Andrew Eaton, Bradford L Schlei
with Casey Affleck, Jessica Alba, Kate Hudson, Bill Pullman Ned Beatty, Elias Koteas, Tom Bower, Simon Baker, Brent Briscoe, Liam Aiken, Matthew Maher, Jay R Ferguson
release UK 4.Jun.10, US 18.Jun.10
10/US 1h48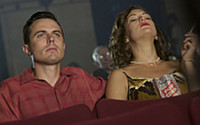 At the movies: Affleck and Hudson



---
SUNDANCE FILM FEST
BERLIN FILM FEST
R E V I E W B Y R I C H C L I N E

Being based on the Jim Thompson novel, this could never be a cheery romp. Indeed, Winterbottom keeps Thompson's bleakness intact, leaving us little to engage with. But the film has an earth beauty and is a haunting look at the dark side of being human.

Lou Ford (Affleck) is a small-town deputy in 1950s West Texas, where he's still struggling with childhood demons and feelings of inadequacy. Even though he has an adoring girlfriend (Hudson), he starts a torrid fling with a prostitute (Alba) who lives on the edge of town. And as he sets in motion an elaborate revenge plot, we discover that underneath his nice guy exterior Lou is a sadistic murderer. And he's only barely staying one step ahead of the investigators (including Bower, Koteas and Baker).

Winterbottom tells this story with a loping pace, like a sleepy Western in which everyone's waiting for the showdown between the hero and the villain. Except that there's no hero here, and everyone only needs to realise that Lou is a killer. So instead of an intricate thriller, this is a character study that digs into the soul of someone who is a kind pillar of society on one hand and a brutal psychopath on the other. And maybe the two are related.

All of this hinges on Affleck's performance, which is unnerving but not as complex as it should be, relying instead on his usual tools: that creepy grin and whiny-mumbled speech. This is clearly a monster we should be have some sympathy for, but Affleck never wins us over. Instead, we are deeply horrified by what he does to the trusting people around him, including the feisty Alba and an effectively against-type Hudson.

Although it's expertly designed and intricately observed, the film never reveals anything hugely interesting. Sure, Lou's nasty streak was caused by his childhood. Of course the legal system is thornier than it seems. At least all of the characters have complexities that keep us interested, and Winterbottom's skill as a director keeps us gripped to the story. But besides a glimpse into a dark soul, we're left wondering what the point is.
| | | |
| --- | --- | --- |
| | themes, strong violence, language, sexuality | 11.Mar.10 |