dir Carlos Saldanha
scr Michael Berg, Peter Ackerman, Mike Reiss, Yoni Brenner
voices Ray Romano, Queen Latifah, John Leguizamo, Denis Leary, Simon Pegg, Seann William Scott, Josh Peck, Bill Hader, Kristen Wiig, Chris Wedge, Karen Disher, Maile Flanagan
release US/UK 1.Jul.09
09/US Fox 1h36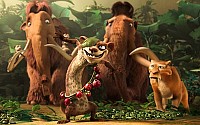 Prehistoric adventure: Ellie, Buck, Manny and Diego (above); Scrat vs Scratte (below)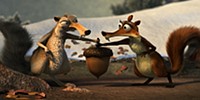 ---
See also:



---

R E V I E W B Y R I C H C L I N E

A slightly more adventurous story breaks the trequel curse: this film is actually better than its predecessors. In addition to astoundingly eye-catching animation, this one also has a driving (albeit corny) narrative and some snappy new characters.

Mammoth Manny (voiced by Romano) is so preoccupied with the pregnancy of his mate Ellie (Latifah) that he hasn't noticed that his sabre-tooth pal Diego (Leary) is thinking of leaving to regain his mojo. Meanwhile, goofy sloth Sid (Leguizamo) wants a family of his own. So when he finds three eggs in a cavern, he decides to raise the hatchling dinosaurs as his own. Then their T-rex mother arrives, taking them and Sid into a lost underground world populated by dinosaurs, hungry plants and a swashbuckling eye-patched weasel named Buck (Pegg).

The screenwriters casually brush off the anachronism with one line ("I thought these guys were extinct!"), then merrily throw their ice-age characters into an oozing primordial rainforest. This lets the animators run wild with lurid colours that don't exist in the icy world above, plus lots of adorable baby creatures. But even as they're animated with terrific inventiveness, the action scenes feel familiar (balancing rocks, rushing water, snow slides). And while the 3D is sharp, the film would look better without it. Strangely, nothing ever leaps off the screen at us.

The best thing about this series is that the comedy and action are centred on the likeably oddball characters. And while the returning cast (including Scott and Peck as Ellie's possum brothers) get a chance to expand their roles, the film is stolen by Pegg's wonderfully mad Buck, a Captain Ahab character desperate to catch the legendary albino dinosaur that haunts his nightmares.

Of course the film is also punctuated with the hilarious antics of Scrat and his elusive acorn, and this time the filmmakers have given him a rival for the nut, the female Scratte, who also offers a romantic distraction. Like the rest of the script, this subplot is also simplistic and syruppy, especially when the abandoned acorn sings Alone Again (Naturally). But the film is such a colourful rush of action and comedy that, like the 65 million-year dinosaur anomaly, we'll let it slide.
| | | |
| --- | --- | --- |
| | themes, violence, innuendo | 21.Jun.09 |