dir Steve Martino, Mike Thurmeier
scr Michael Berg, Jason Fuchs
prd John C Donkin, Lori Forte
voices Ray Romano, John Leguizamo, Queen Latifah, Denis Leary, Jennifer Lopez, Peter Dinklage, Keke Palmer, Wanda Sykes, Josh Gad, Drake, Nicki Minaj, Nick Frost
release US/UK 13.Jul.12
12/US Fox 1h34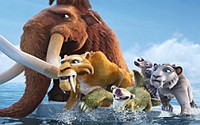 Land ho: The gang outruns the pirates



---
See also:



R E V I E W B Y R I C H C L I N E

Very early on, this series completely jettisoned any respect for science, gleefully ignoring the laws of gravity end geology to carry on the family-friendly series of dangers encountered by this growing herd of misfit semi-prehistoric creatures. It's not very clever, but it's still good fun.

When the ice shelf suddenly cracks in two, mammoth Manny (Romano) finds himself adrift with sabre-tooth Diego (Leary), sloth Sid (Leguizamo) and Sid's toothless granny (Sykes). But as they attempt to get home, they're waylaid by a pirated iceberg sailed by Captain Gutt (Dinklage) and his scurvy crew. Meanwhile, Manny's wife Ellie (Latifah) and their mildly rebellious daughter Peaches (Palmer) are trying to outrun the shifting continental plates. And the film's real star Scrat is on a hunt for a hidden acorn treasure.

This franchise grabs onto whatever genres it likes, and this time the filmmakers play with every seafaring adventure cliche they can think of, plus a bit of Braveheart and, in the parallel mother-daughter story, some parent-teen family issues. But nothing about the plot matters at all: what keeps us entertained is the wacky banter between the characters, plus some enjoyably eye-popping animation, which makes especially good use of 3D gimmickry.

Once again, the screenwriters throw a rather huge number of new characters at us, never bothering to stick to the realities of the various species, from limber mammoths to fast-moving sloths. Dinklage's flamboyant baboon is such a crazed scene-stealer that he could easily sustain a spin-off film. Sykes gets all the best lines as the feisty Mr Magoo-like crone. And Lopez is on hand as a white tiger to give Diego a bit of trouble ("Don't call me Kitty!"), plus a rom-com subplot.

Fortunately, the filmmakers keep everything moving so briskly that we don't have time to focus on the gaping holes in the premise. The high-energy set-pieces are often surprisingly thrilling and the songs are both silly and witty. There are also some surprisingly hilarious touches, including each character's encounter with a siren and the rather deranged conclusion to Scrat's search. Even so, the very best thing about this film is the Maggie-centred Simpsons short that precedes it.
| | | |
| --- | --- | --- |
| | themes, some violence | 30.Jun.12 |