dir Atom Egoyan
scr Erin Cressida Wilson
prd Jeffrey Clifford, Joe Medjuck, Ivan Reitman
with Julianne Moore, Amanda Seyfried, Liam Neeson, Max Thieriot, RH Thompson, Nina Dobrev, Mishu Vellan, Julie Khaner, Laura DeCarteret, Natalie Lisinska, Tiffany Knight, Meghan Heffern
release UK 5.Mar.10,
Can/US 26.Mar.10
09/Canada StudioCanal 1h39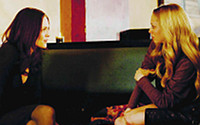 I want the details: Moore and Seyfried



---
TORONTO FILM FEST

R E V I E W B Y R I C H C L I N E

This lush, insinuating remake of the rather muted French film NATHALIE... benefits from a much more emotionally charged script and lively, layered performances. It also has director Egoyan's playful skill at exploring images and perceptions.

Catherine (Moore) puts up with the flirtatious personality of her husband David (Neeson) until she gets evidence that he's had an affair. And now she wants details. So she hires high-class hooker Chloe (Seyfried) to seduce him and tell her what happens. "He's not the client," she reminds Chloe, and indeed it's the relationship between the women that turns strangely obsessive. Lines are blurred between who's falling in love with whom, and by the time each person starts to realise what's happening, they're in trouble.

Yes, there's a whiff of Fatal Attraction in the way Wilson has adapted the screenplay. And Egoyan tells the story like a Hitckcock thriller, with a constantly surging underscore by Mychael Danna and sleekly linear production design that's heavy on glass and mirrors. Paul Sarossy's camerawork prowls the sets seductively, developing erotic tension between all of the characters, including Catherine and David's late-teen son (Thieriot).

But this isn't style over substance. It's an astute exploration of a mature marriage that has changed from passionate romance into a close friendship. Moore and Neeson beautifully get under their characters' skins, and we can really feel how each one is struggling with growing older. Seyfriend is excellent as well, playing a woman who knows exactly how to hit the right buttons yet isn't quite in control of her power to arouse others.

Watching the events unfurl through Catherine's eyes gives the film a subtle electric charge because, like her, we're unsure what's really going on. We don't understand why their son is so surly toward her, and we are drawn to this sexy stranger who seems to offer something intriguing that might actually reinvigorate the marriage. It's rare to find a movie that recognises that even in relationships we're all human, we still find other people attractive and we need to be pursued. And since this film is so well acted and directed, perhaps we can forgive its melodramatic touches.
| | | |
| --- | --- | --- |
| | themes, language, sexuality | 22.Oct.09 lff |