R E V I E W B Y R I C H C L I N E
dir Gregg Araki
scr Dylan Haggerty
with Anna Faris, John Krasinski, Adam Brody, Danny Masterson, Jane Lynch, Marion Ross, John Cho, Danny Trejo, Richard Riehle, Michael Hitchcock, Rick Hoffman, Roscoe Lee Browne
release US 16.Nov.07, UK Mar.08 llgff
07/US 1h28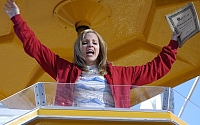 The edge of reason: Faris




Araki is back to his familiar scruffy form after the expertly made Mysterious Skin. This stoner romp is great farcical fun, even if it never seems to get anywhere.

Jane (Faris) is an unrepentant pothead, already high when she tucks into a batch of cupcakes made by her housemate Steve (Masterson). Then she realises they're laced with hash. She now has several problems: buying more hash from her tetchy dealer (Brody), re-baking the cupcakes, paying the electric bill and getting through an acting audition. And with the inability to concentrate, her life unravels as she traverses Los Angeles with the help of a pair of delivery men (Cho and Trejo) and Steve's buddy Brevin (Krasinski), who has a major crush on her.

The film strikes a fantasy tone from the start, with Browne narrating Jane's stream of consciousness as if it's some sort of morality tale in which no one's actually going to learn anything. And it's extremely goofy, with sped-up camera work and the actors' zoned-out performances as people utterly out of touch with what's happening around them. Meanwhile, the wacky plot zigzags all over the place as Jane's quest gets increasingly convoluted.

And it's Faris who makes the whole shambolic thing watchable. Not only is she adorably bewildered, but she plays Jane hilariously as a young woman with both heightened senses and an overpowering blurriness. In this pathetic state, Jane is unable to concentrate on anything, so her journey continually changes directions, accompanied by rampant fantasies and paralysing paranoia. And the cast around her, most of whom appear in only one scene, add amusing details and fairly constant nuttiness.

As the story begins to focus on a destination (glimpsed in a brief prologue), it becomes clear that there's really no point to it all. Even though the finale centres around a first edition of the Communist Manifesto. The message that drugs can destroy your life is delivered with tongue in cheek, while Araki indulges in uproarious slapstick, filling scenes with attitude and raw charm. So even as he avoids the lyrical dark beauty of his last film, Araki has clearly learned a lot from his brief foray into more tightly controlled narrative filmmaking.
| | | |
| --- | --- | --- |
| | themes, language, drugs, sexuality | 10.Mar.08 |