dir Toa Fraser
scr Alan Sharp
with Jeremy Northam, Peter O'Toole, Sam Neill, Bryan Brown, Judy Parfitt, Ramon Tikaram, Art Malik, Dudley Sutton, Jenna Pollard, Bruce Hopkins, Eva Sayer, Charlotte Graham
release UK 12.Dec.08
08/NZ Atlantic 1h40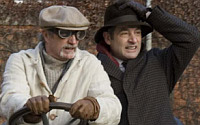 A dog's life: Brown and Northam



---
TORONTO FILM FEST

---
R E V I E W B Y R I C H C L I N E

It's rather sweet and wistful, but this fable for dog-lovers is also thoroughly engaging, with terrific acting and a story that continually catches us by surprise.

In Victorian England, Fisk (Northam) has an ordered life, visiting his eccentric father (O'Toole) every Thursday for dinner. One day they head into town to hear a swami (Malik) give a talk on reincarnation. It's not very inspiring, but Fisk gets an idea to invite another attendee, Dean Spanley (Neill) for a drink, and over conversation comes to believe what Spanley might be a reincarnated dog. As he and a local conveyancer (Brown) carry on these conversations, they decide that Fisk's father needs to hear this too.

Kiwi filmmaker Fraser creates a lively, comical tone from the start that undermines the story's slight over-cute tendencies, as well as the limitations of the budget. The period is recreated in rather broad strokes, from sets to costumes to performances, but it's in the sharp characters and insinuating dialog that it really comes to life. As the film progresses, the characters become both rather goofy and thoroughly endearing, playing cleverly on English stiff-upper-lip culture.

The doughy Northam holds things together nicely as a man whose curiosity about Spanley seems just a little over-the-top, but what else does he have to do with his time? O'Toole is simply marvellous in the pivotal role, cantankerous and outspoken ("A woman with a vote is like a cow with a gun!"), and yet when it's time for him to dig deep emotionally, he's takes us right there with him. Meanwhile, Neill bravely dives into his extremely odd character, giving Spanley telling tics without ever becoming cartoonish. And all of the bit players make the most of their roles.

In the end, the film is perhaps a bit too quirky for its own good. Offbeat obsessions abound among and between the characters, plus lots of silly canine puns. But when Spanley starts waxing lyrical about how it feels to be a dog, the film takes on a strange and lovely quality that really gets under our skin. And in the beautiful final moments, there's a terrific emotional kick that will resonate with anyone who loves their dog. Or their father.
| | | |
| --- | --- | --- |
| | some themes | 2.Oct.08 lff |