dir Fernando Meirelles
scr Don McKellar
with Julianne Moore, Mark Ruffalo, Gael García Bernal, Danny Glover, Alice Braga, Don McKellar, Yusuke Iseya, Yoshino Kimura, Maury Chaykin, Mitchell Nye, Susan Coyne, Sandra Oh
release Can Sep.08 tff, US 3.Oct.08,
UK 28.Nov.08
08/Canada 1h21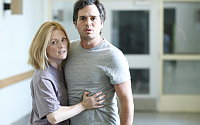 The eyes have it: Moore and Rufalo



---
CANNES FILM FEST
TORONTO FILM FEST
R E V I E W B Y R I C H C L I N E

A harrowing apocalyptic fable made with skill and invention, this film is so packed with ideas that it's nearly overpowering. And this depth and relevance makes up for the somewhat over-egged filmmaking.

In an unnamed city, a man (Iseya) suddenly develops a milky-white blindness and with his wife (Kimura) visits an ophthalmologist (Ruffalo) who can't find anything wrong. The next morning, the doctor wakes up blind, as does everyone who came in contact with the man, but the doctor's wife (Moore) seems immune. As the afflicted are placed under quarantine, she fakes blindness to stay with her husband. The detention centre is seriously hellish, bringing out the best and very worst in everyone. And as the disease spreads, it may not be much better outside.

Writer-actor McKellar touched on these issues before with his 1998 gem Last Night, and this film similarly centres on the humanity rather than the spectacle. And it's pretty bleak stuff. As usual, Meirelles is unafraid to seriously unsettle his audience, imaginatively directing each scene with shockingly resonant twists and turns, while the astonishing cinematography by Cesar Charlone continually obscures our vision. And Uakti's gentle score cuts through the chaos.

The performances are so raw and edgy that we can't look away. As always, Moore, is a deeply sympathetic protagonist, trying to be the eyes of everyone she meets, even as her own selfish interests start to take root. Ruffalo is also terrific as a natural-born leader who's completely adrift. The set-up allows all of the actors to explore their characters' singular reactions to the affliction--Garcia Bernal's monstrous power game, Glover's tender exploration, McKellar's opportunism.

Amid the confusion and fear, Meirelles finds moments of provocative humour, dark irony and raw terror. And the script vividly explores government reaction to contain the "threat" even though, as the health minister (Oh) says, "the disease is immune to bureaucracy". Unlike a slick Hollywood filmmaker, Meirelles has the nerve to look unflinchingly into the dark recesses of humanity and also to show the vile filth that would be the natural result of a society gone blind. In the end, the film feels a little heavy-handed, but it's also a deeply thoughtful and provocative trial by fire for mankind.
| | | |
| --- | --- | --- |
| | themes, strong violence, language | 11.Sep.08 |