MRS NOBODY
[Dona Fulana]
dir Andrucha Waddington
scr Mauricio Zacharias
with Fernanda Montenegro, Eduardo Sterblitch, Regina Case
LUCK [La Fortuna]
dir-scr Paolo Sorrentino
with Emily Mortimer, Basil Hoffman


On the beach: Hoffman and Mortimer
---
THE MUSE [A Musa]
dir Fernando Meirelles
scr Antonio Prata, Chico Mattoso
with Vincent Cassel, Marcio Garcia
I THINK I'M IN LOVE [Acho Que Estou Apaixonado]
dir-scr Stephan Elliott
with Marcelo Serrado, Ryan Kwanten, Bebel Gilberto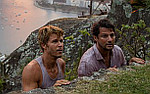 Mountaintop discovery: Kwanten and Serrado
---
WHEN THERE IS NO MORE LOVE [Quando Não Há Mais Amor]
dir-scr John Turturro
with Vanessa Paradis, John Turturro
TEXAS
dir-scr Guillermo Arriaga
with Land Vieira, Laura Neiva, Jason Isaacs
THE VAMPIRE FROM RIO [O Vampiro do Rio]
dir-scr Sang-soo Im
with Tonico Pereira, Roberta Rodrigues

PAS DE DEUX
dir Carlos Saldanha
scr Elena Soarez
with Rodrigo Santoro, Bruna Linzmeyer, Cassi Abranches, Diogo de Lima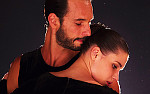 Dance of their life: Santoro and Linzmeyer
---
USELESS LANDSCAPE [Inútil Paisagem]
dir Jose Padilha
scr Otavio Leonidio
with Wagner Moura, Cleo Pires, Caio Junqueira
THE MIRACLE [O Milagre]
dir Nadine Labaki
scr Nadine Labaki, Rodney El Haddad
with Nadine Labaki, Harvey Keitel, Caua Antunes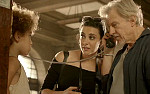 Jesus calling: Antunes, Labaki and Keitel
---
Transitions:
dir Vicente Amorim
scr Fellipe Barbosa
with Claudia Abreu, Michel Melamed, Debora Nascimento
prd Joshua Skurla, Pedro Buarque de Hollanda, Dan Klabin, Denise Gomes, Leonardo M Barros
release Br 11.Sep.14,
UK Jun.15 eiff, US 29.Apr.16
14/Brazil 1h50

R E V I E W B Y R I C H C L I N E

The Cities of Love series continues with this warm, funny collection of 10 romantic shorts linked through clever editing and transitional scenes. This is a smoother production than either the Paris or New York films, and it hangs together much more coherently as a whole.

The sumptuously shot scenic transitions show Rio de Janeiro at its best, mainly with magnificent aerial views, plus glimpses of sexy people and hints of interwoven love stories. Of the 10 segments, the strongest is Arriaga's gritty, inventively set tale of boxer Texas (Vieira) and his wife Maria (Neiva), both struggling with disability after a car crash when they get a startling offer from a gringo (Isaacs). The most enjoyable short is Elliott's exhilarating adventure as a film festival volunteer (Serrado) escorting a tetchy superstar (Kwanten) around town before embarking on a vertiginous quest.

Of course Rio is a vertical city, and other clips include a man (Moura) venting his frustration as he hang-glides high above Christ the Redeemer, a vampire waiter (Pereira) leading a mini-carnival up the steep streets of his favela, and a lovelorn sculptor (Cassel) descending by cable car to his job on a very colourful Ipanema Beach. And the seaside features strongly, such as when a wry, sickly millionaire (Hoffman) takes his spoiled wife (Mortimer) for a swim, or as a couple (Paradis and Turturro) debates a fading relationship in their warm waterfront home.

Several segments explore Brazil's multi-ethnic mix and the collision of various economic situations. Labaki and Keitel play themselves in a witty, pointed story about their encounter with a cheeky street urchin (Antunes) who's waiting for a phone call from Jesus ("It's a completely different Jesus," deadpans Keitel). Montenegro is radiant as a bustling homeless women showing her stunned grandson (Sterblitch) that she prefers living on the streets. And the biggest emotional kick comes as two dancers (Santoro and Linzmeyer) struggle with a big decision before and during their eye-catching performance.

The skilful filmmaking brings out sparks of personality in the range of characters, leading to frequent surprises and inventive visual touches. While some of these narratives feel slight or incomplete, they feed into a bigger picture of a city that thrives on its wide variety of human interaction. And the final scenes are surprisingly warm and sweet. Even as the film acknowledges life's challenges, most of the story strands come to a tidy, happy conclusion, leaving us smiling at this ravishingly picturesque city.
| | | |
| --- | --- | --- |
| | themes, language, violence, some sexuality | 26.Apr.16 |