R E V I E W B Y R I C H C L I N E
dir Ray Lawrence
scr Beatrix Christian
with Laura Linney, Gabriel Byrne, Deborra-Lee Furness, John Howard, Leah Purcell, Stelios Yiakmis, Simon Stone, Alice Garner, Betty Lucas, Eva Lazzaro, Sean Rees-Wemyss, Chris Haywood
release Aus 20.Jul.06,
US 27.Apr.07, UK 25.May.07
06/Australia 2h03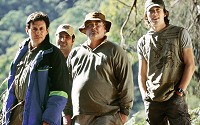 Deliverance: Byrne, Yiakmis, Howard and Stone



CANNES FILM FEST
EDINBURGH FILM FEST
TORONTO FILM FEST

Despite a glacial exterior, this fine film holds us in its relentless grip right from the unsettling prologue. Put simply: it's staggeringly well written, directed and acted.

In Jindabyne, a sleepy town in the Snowy Mountains of southeast Australia, four men are off on their annual fishing trip: Stewart (Byrne), his friends Carl and Rocco (Howard and Yiakmis) and young Billy (Stone). But when they arrive at their remote campsite, they find an Aboriginal woman's body floating in the river. It's too late to do anything, and they spend the next day fishing before heading back to notify the authorities. This delay causes an eruption of anger and emotion both in the community and within their homes.

Based on a Raymond Carver story, the story resonates with deep-seated, submerged feelings as everyone tries to keep their emotions under wraps. This is unsettlingly echoed in the fact that the town itself was once submerged to make way for a reservoir, and the idea that ghosts haunt the lake while a killer prowls the highway. This multi-layered sense of impending tragedy is sometimes overwhelming, and director Lawrence (Lantana) maintains it perfectly throughout the film without ever giving in to cliches.

Meanwhile, Christian's script is a marvel of hints and suggestions, alluding to past events that have shaped this group of people and secrets that threaten to emerge from the darkness. It also touches meaningfully on the diversity of subcultures, as this collision between gender, age and ethnicity presents both a massive obstacle to understanding and an opportunity to perhaps find some common ground. But nothing is easy, and there are no pat answers.

Much of the story is told through the reactions of the women: Stewart's stressed-out wife (Linney) and intense mother (Lucas), Carl's outspoken wife (Furness), Rocco's tentative girlfriend (Purcell) and Billy's enigmatic young wife (Garner). Every performance is raw and earthy, with especially natural interaction that's energetic, as well as both authentically funny and desperately strained. As an ensemble, it's a remarkable portrayal of a tight little community that struggles to survive a devastating series of events that highlight silent grudges and a lack of true communication. Powerful, chilling, deeply pointed filmmaking.
| | | |
| --- | --- | --- |
| | themes, language, violence | 12.Mar.07 |