R E V I E W B Y R I C H C L I N E
dir-scr Ethan Hawke
with Mark Webber, Catalina Sandino Moreno, Michelle Williams, Laura Linney, Ethan Hawke, Sonia Braga, Frank Whaley, Lynn Cohen, Daniel Ross, Anne Clarke, Cherami Leigh, Glen Powell Jr
release US 24.Aug.07,
UK Aug.07 eiff
06/US 1h57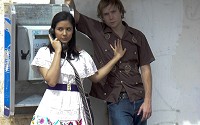 Phone home: Sandino Moreno and Webber



Ethan Hawke wrote, directed and costars in this adaptation of his own novel. This kind of involvement doesn't always result in on-screen self-indulgence, but this film gets dangerously close. Fortunately the cast and filmmaking are excellent.

William (Webber) is a struggling 20-year-old actor in New York who meets the sparky aspiring singer Sarah (Sandino Moreno) in a bar. These young people are very much in love, but hit a rocky road due to their jobs, expectations and the baggage they carry from previous relationships, including William's bickering parents (the superb Linney and Hawke), Sarah's probing mother (Braga) and William's persistent ex-girlfriend (Williams). They have an idyllic escape to Mexico, where William goes to make a movie, but things aren't quite the same back in New York.

A thoughtful, introspective tone makes this film far more intriguing than the premise suggests. Basically a simple story about a 21-year-old guy who has his heart broken for the first time, the film is enriched with layered performances, revealing dialog and an atmospheric song score (by Jesse Harris). Webber and Sandino Moreno are terrific as complex people who are fickle in a realistically identifiable way. Both actors are beautifully adept at shifting these characters from sassy and cute to angry and heartless, and back again.

The script is loaded with cool dialog (such as when William and Sarah role play a break-up right at the start of their relationship) and provocative narration ("love isn't trustworthy; only true friendship is"). Moments that promise sweetness turn suddenly very sour, and the sexual intimacy is a steamy minefield. When the sweetly blossoming relationship hits a rough patch, the film gets seriously unpleasant, which is as much a shock for us as for the characters.

Through all of this, Hawke's direction meanders through the scenes and wallows in the emotional highs and lows, as if he's saying something we've never heard before. This is a beautifully made, involving film, but it would have been so much stronger with a bit of careful editing, perhaps an outside eye removing the pretentious navel gazing to keep the focus more on the story than on the Important Life Lessons William learns along the way.
| | | |
| --- | --- | --- |
| | themes, language, sexuality | 17.Aug.07 eiff |