R E V I E W B Y R I C H C L I N E
dir-scr Quentin Tarantino
with Kurt Russell, Rosario Dawson, Tracie Thoms, Rose McGowan, Zoe Bell, Sydney Poitier, Vanessa Ferlito, Mary Elizabeth Winstead, Jordan Ladd, Eli Roth, Quentin Tarantino, Marcy Harriell
release US 21.Jul.07
(Grindhouse: 6.Apr.07),
UK 21.Sep.07
07/US Dimension 1h54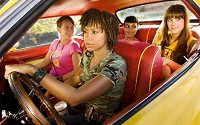 Just a test drive: Bell, Thoms, Dawson and Winstead; Russell (below)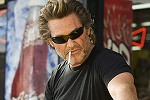 See also:
PLANET TERROR (2007)
MACHETE (2010)
---
CANNES FILM FEST


Tarantino pays homage to 1970s exploitation cinema with this expanded version of his half of the Grindhouse double bill. But while playing by the rules--scantily clad women, sudden brutality, straightforward narrative--he also gleefully subverts the genre to keep us thoroughly entertained.

Four women with attitude to burn (Ladd, Poitier, Ferlito and Harriell) stop for dinner on their way to a girls-only weekend. At the seedy taco bar and an even trashier bar, they chat with the sleazy Dov (Roth) and barman Warren (Tarantino), and diss their nemesis Pam (McGowan), who hitches a ride with a stranger, Stuntman Mike (Russell). The rest of the evening goes horribly wrong. More than a year later, Stuntman Mike comes across four more women (Dawson, Thoms, Bell and Winstead), but two of them are stuntwomen, and he's more than met his match.

Anyone familiar with the grindhouse experience will immediately feel at home with the sun-baked cinematography and worn-out print in which reel changes announce themselves with a few minutes of increasing scratchiness followed by a loud clunk and a bad jump across who knows how many missing frames. The twangy score, constant car-revving action and obsession with female anatomy (mainly bare feet and short shorts) hark back to a time when filmmakers made up for a lack of budget and talent with sheer low-brow audacity.

Tarantino lacks neither budget nor talent, though, and this film is skilfully directed in an unassuming, witty style. The constant barrage of genre references is both deeply self-indulgent and outrageously funny. And what makes it thoroughly enjoyable for fans is the way Tarantino turns the tables with fiercely strong female characters and a warped sense of true justice that brings the film to a climax that's both shockingly vicious and hysterically satisfying.

The cast is terrific, with especially strong, off-handed turns from Bell, Poitier and Dawson, plus a riotously funny performance from Thoms. And Russell is terrific as the smooth-talking tough guy who gets his kicks from vehicular homicide. The film is jammed with astonishing stuntwork, staggering car smashes, classic muscle-cars and rapid-fire conversations about everything imaginable. And if it seems like a pointless in-joke, it's also genuinely terrifying and hilarious--usually both at the same time.
| | | |
| --- | --- | --- |
| | themes, strong violence, grisliness, language | 11.Jul.07 |



Shane Vozar, Baker City, Or:

"This was the worst movie experience of my life. It was so boring it was like watching The View on tv. If it were a grindhouse era film it would never have a following and would be obscure. It was just women talking with barely any action until the end. It wasn't horror or action. QT really dropped the ball and I'll never be a fan again.(5.Aug.08)

B. Fagan, Washington State:

"Horrible. Boring. All talk. Terrible. Terrible. Sorry, I was mocking a previous post. It was actually a very entaining, well written, great acting movie. God forbid we have dialog where we actually have to concentrate. If you're smart you'll like it. If you're stupid you won't." (7.Aug.08)