R E V I E W B Y R I C H C L I N E
dir-scr Robert Rodriguez
with Freddy Rodriguez, Rose McGowan, Marley Shelton, Josh Brolin, Michael Biehn, Jeff Fahey, Naveen Andrews, Michael Parks, Bruce Willis, Quentin Tarantino, Stacy Ferguson, Nicky Katt, Tom Savini, Rebel Rodriguez, Danny Trejo, Cheech Marin
release US 16.Oct.07 dvd
(Grindhouse: 6.Apr.07),
UK 9.Nov.07
07/US Dimension 1h45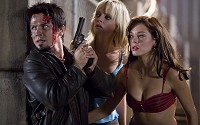 A night to remember: Rodriguez, Shelton and McGowan



See also:
DEATH PROOF (2007)
MACHETE (2010)
---


Rodriguez's half of the Grindhouse double-bill is a ripping zombie movie that pays zealous homage to 1970s exploitation cinema. It's an entertaining and hilariously over-the-top celebration of gore and sex.

Cherry (McGowan) is a steamy dancer trying to avoid her over-keen ex Wray (Rodriguez). Sheriff Hague (Biehn) takes his job a bit too seriously--when not competing with his barbecue-genius brother (Fahey). Military scientist Abby (Andrews) is having trouble keeping a chemical weapon out of the hands of a hothead lieutenant (Willis). Dakota and Bill (Shelton and Brolin) are ice-cold husband and wife doctors, disturbed by a glut of patients who don't seem to die from a horrific disfiguring disease. And this motley group of survivors might be the only hope for humanity.

Right from the start we're clear where Rodriguez is taking us: the film opens with the brilliant trailer for Machete, a politically aware immigrant-vigilante thriller starring Trejo and Marin, before plunging into the lascivious opening titles featuring McGowan's pole-dancing routine. What follows is a thrilling romp about cars, motorbikes, guns, boobs, zombies and bad babysitters that noisily subverts its misogynistic themes by having women who are much more than sex bombs.

The actors dive into their roles with gusto, and it helps that each character is given a meaningfully thorny back-story that would be plenty to deal with even without the marauding undead. Rodriguez is especially good as the feisty and always surprising Wray, but the film belongs to McGowan and Shelton as harried women who get sexier as the world around them falls to pieces--and as they develop their own sense of purpose and superhuman skills. McGowan's false leg and Shelton's numbed hands are, literally, strokes of genius.

Rodriguez is having perhaps too much fun here, layering in all kinds of movie references as well as stunts, makeup and explosions that are much larger than strictly necessary. Geysers of blood, insinuating camera angles and an extremely playful editing style add to the mayhem, keeping us gasping in horror and laughing at the gleeful excesses on screen. And when he includes some surprisingly strong political subtext, we know we're in the hands of a master.
| | | |
| --- | --- | --- |
| | themes, language, violence, grisliness, sexuality | 18.Sep.07 |