R E V I E W B Y R I C H C L I N E
dir François Ozon
scr François Ozon, Martin Crimp
with Romola Garai, Sam Neill, Lucy Russell, Michael Fassbender, Charlotte Rampling, Jacqueline Tong, Janine Duvitski, Simon Woods, Christopher Benjamin, Tom Georgeson, Alison Pargeter, Jemma Powell
release UK Oct.07 lff
07/UK 1h59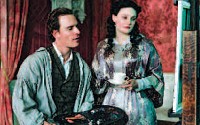 Portrait of the artists: Fassbender and Garai



BERLIN FILM FEST
TORONTO FILM FEST



With a surface like a trashy novel and the undercurrents of a social satire, Ozon's British period drama is a slightly odd mix, feeling both arch and astute at the same time.

In Edwardian England, Angel Deverell (Garai) is a wilful, arrogant teenager living above the small shop run by her mother (Tong) but behaving like a spoiled diva. She is so certain that she will be a literary sensation that when a publisher (Neill) shows tentative interest in her florid first novel, she refuses to change even a single comma. And the public gobble it up, turning her into a star novelist. An ardent fan, Nora (Russell), becomes her assistant, while Nora's surly painter brother Esme (Fassbender) catches Angel's attention, stirring her romanticised image of love.

There are several clever elements balanced in this story, contrasting quick celebrity with more difficult artistry, and inner confidence with real skill. These things are vividly shown in the complex, layered tension between Angel and Esme, a relationship that clearly means something different for each of them, while Nora pines on the sidelines with a specific love of her own. And throughout it all, Ozon inventively plays with concepts of personal fantasy that are relevant to anyone who's ever made a five-year plan.

Despite the satirical undertone, the excellent actors play it dead straight, which in Garai's case means that she has to very quickly set us against the shallow, overwrought Angel. This is a difficult, unsympathetic character, and Garai follows Ozon right over the top with her. That she claws back a peculiar sort of sympathy by the end is truly remarkable. Although it is Rampling's expert turn as Neill's wife that reveals this to us.

As it progresses, Ozon indulges in some risky filmmaking, pushing scenes into melodramatic silliness, adding some deliberately dodgy effects and wallowing in the romance novel premise through colourfully lurid production design. He also, despite the longish running time, rushes the plot to its conclusion. But it's in the film's subtleties that the themes emerge and linger, making us think about our own ambitions, and how as consumers we are helping (or hindering) the dreams of others.
| | | |
| --- | --- | --- |
| | themes, sexuality, violence | 28.Oct.07 lff |