R E V I E W B Y R I C H C L I N E
dir-scr Bobcat Goldthwait
with Melinda Page Hamilton, Colby French, Bryce Johnson, Jack Plotnick, Geoff Pierson, Bonita Friedericy, Brian Posehn, Morgan Murphy, Steve Agee, Harvey J Alperin, Ernie Misko, Rebecca Avery
release US 29.Sep.06,
UK 16.Mar.07
06/US 1h29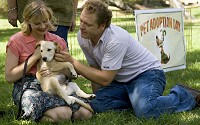 Nice puppy: Hamilton and French


SUNDANCE FILM FEST
TORONTO FILM FEST



This jet-black comedy has a surprising sweetness that counter-balances the story's profoundly disgusting plot points. It's a clever mixture that's a bit clunky but also thoroughly engaging.

Amy (Hamilton) has a horrible secret. Suffice it to say that she knows it will be a complete deal-breaker in any future relationship, but as her romance blossoms with the lively, sexy John (Johnson), she feels the growing need to come clean about her past. Surely if John can cope with her strict parents (Pierson and Friedericy) and drug-addict brother (Plotnick), he can cope with this. Or maybe she should unburden herself to married coworker Ed (French), who she can't help but flirt with. Either way, she knows it'll probably go horribly wrong.

Writer-director Goldthwait (best-known as the manic Zed in the Police Academy movies) develops a wonderfully rude sense of comedy that's often hysterically funny. When Amy says, "I feel like I can tell you anything", we groan with dread and want to scream at her, "Don't tell him!" And he builds on this tone with witty visual gags (such as Amy and Ed eating lunch sitting in tiny school chairs) and sharply unpredictable dialog.

It's filmed in a slightly clownish way, with fish-eye close-ups and lots of goofy/shocked reaction shots, but this also heightens the wacky mood and undermines any revulsion we might feel about the more vulgar story elements. This also makes up for the low-budget production values, as do the lively performances. Hamilton, Johnson and French are engaging in the lead roles, but it's Pierson and especially Friedericy who steal the film with hilariously layered turns.

There's rather a lot of Meet the Parents in here, although with a very different spin. Much of the plot is painfully obvious, and the final moral message (that it's important to lie about some things) is a bit dubious. But the various confrontations between the characters bristle with both raucous humour and genuine emotion. And as it progresses, we can't help but think about what might happen if our own most embarrassing secret was brought out in the open.
| | | |
| --- | --- | --- |
| | strong themes, language, sexuality, some violence | 20.Sep.06 |