R E V I E W B Y R I C H C L I N E
dir Neil Armfield
scr Luke Davies, Neil Armfield
with Heath Ledger, Abbie Cornish, Geoffrey Rush, Noni Hazlehurst, Tony Martin, Tom Budge, Nathaniel Dean, Paul Blackwell, Cristian Castillo, Roberto Meza-Mont, Damon Herriman, Tara Morice
release Aus 25.May.06,
UK 3.Nov.06, US 17.Nov.06
06/Australia 1h48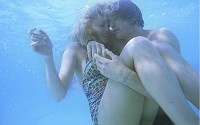 Requiem for a dream: Cornish and Ledger




Harrowing and strongly moving, this junkie drama beautifully explores the emotional core of its characters. It helps, of course, that the cast is this good.

Dan (Ledger) is a poet embarking on romance with Candy (Cornish), a painter. Besides their artistic sensibility, the two share an appetite for illicit substances, which soon spirals out of control. Dan's mentor (Rush) helps them find money or drugs, but pretty soon the heroin runs their life, driving them to sell almost everything they own, including their bodies. Candy's parents (Hazlehurst and Martin) reluctantly try to support them, especially since they clearly long for a more stable life. But will they survive their next fix?

The film is broken into three not-so-subtle chapters--heaven, earth, hell--as we watch this couple descend from the flush of attraction to grim realism to the horrors of addiction. Armfield and Davies (who wrote the semi-autobiographical source novel) tell the story with a bracingly honesty that refuses to wallow in misery or indulge in sentiment. It's funny and sweet, harsh and scary.

Ledger and Cornish create vivid characters we identify with. Ledger's Dan is a nice guy in the grip of two things he can't control: love for Candy and a dependence on heroin. Even though he never wastes away into a skeletal junkie, Ledger beautifully catches Dan's tender soul; we genuinely like him even as we watch him do one awful thing after another. And Cornish skilfully provides an intriguing counterpoint, a different kind of addict who just can't see beyond her next high. These are two likeable people who know they need to stop, but can't.

The supporting cast is just as authentic and layered: Rush's role is insinuating and unnerving, Hazlehurst and Martin offer a steely resolve tinged with personal pain. Meanwhile, Armfield deftly avoids cliches. His brightly sunlit cinematography captures the ecstasy induced by both love and drugs, then shines a spotlight on paranoia, disharmony and health issues. It's a gritty and truthful film that never tries to say everything about addiction, but rather focuses on the aching realities of this particular couple. Raw and powerful.
| | | |
| --- | --- | --- |
| | themes, drugs, language, sexuality, grisliness | 12.Sep.06 |