R E V I E W B Y R I C H C L I N E
dir William Friedkin
scr Tracy Letts
with Ashley Judd, Michael Shannon, Harry Connick Jr, Lynn Collins, Brian F O'Byrne
release US 25.May.07, UK 9.Nov.07
06/US Lions Gate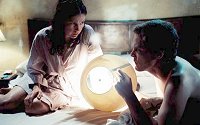 Little blighter: Judd and Shannon



CANNES FILM FEST
TORONTO FILM FEST
LONDON FILM FEST



More of an internal freak-out than all-out horror, Friedkin plays with our heads as he slowly drives these characters around the bend. It's a remarkably involving film--compelling and revolting in equal measure.

Agnes (Judd) lives in an isolated roadside motel in the middle of Oklahoma, working as a barmaid at the local honky-tonk alongside her buddy RC (Collins). One evening, RC introduces her to a new friend, Peter (Shannon). These are clearly two very lonely and damaged souls, both reluctant to allow anyone into their lives. But a gentle relationship develops. Agnes' ex-husband Jerry (Connick), just out of prison, isn't too thrilled. Peter believes he's the subject of government experiments, and has been infested by aphids. If only Agnes could be more sceptical.

There's a glimpse at the beginning of this slow-burning thriller that tells us where we're heading, although we really have no idea where that image will fit in. But this shadow of foreboding infects the film and gives the dramatic sequences an intriguing intensity. Judd plays these scenes superbly, sharply capturing Agnes' desolation (we think we understand when we meet Jerry, but there's more). Her scenes with Connick snap with bitterness and rage, while her interaction with Shannon is much more tentative, becoming increasingly tender and hopeful, and ultimately shattering.

These interpersonal dramas add an astute and subtle statement about relationships to the growing creep-out. These people clearly have a hard time staying centred when they're engaged with other people--but then, don't we all? Meanwhile, the conspiracy and intrigue gradually overrun the film, from witty hints to all-out madness. Not to mention some outrageously grisly sequences that feel especially awful simply because the script has taken the time to build the characters.

With its limited cast and single set, the script's roots in the theatre are extremely obvious. But Friedkin keeps it moving, focussing finely on distraught faces as pressure builds and builds. Yes, it gets completely unhinged in the end. But this is a terrific examination of how paranoia, self-delusion and extremism spread when people lose track of the world around them because of their own intense personal needs. And one tiny bug is all it takes to set you off.
| | | |
| --- | --- | --- |
| | themes, language, violence, sexuality, drugs | 12.Nov.06 tff |