R E V I E W B Y R I C H C L I N E
dir Keith Fulton, Louis Pepe
scr Tony Grisoni
with Harry Treadaway, Luke Treadaway, Tania Emery, Bryan Dick, Sean Harris, Tom Bower, Howard Attfield, Steven Eagles, Nicholas Millard, Diana Kent, David Kennedy, Elizabeth Rider, Ken Russell, Jonathan Pryce, Jane Horrocks, John Simm
release US 28.Jul.06, UK 6.Oct.06
06/UK FilmFour 1h30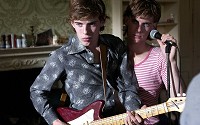 Two-way Romeo: Harry and Luke Treadaway



TORONTO FILM FEST
BERLINALE
Best British Feature:
EDINBURGH FILM FEST
RAINDANCE FILM FEST

Based on the Brian Aldiss novel, this surreal mock-doc features gorgeous imagery and strongly moody themes. But the swirling jumble of a storyline means it never quite connects.

Conjoined twins Tom and Barry Howe (played by twins Harry and Luke Treadaway) are living in isolated L'Estrange Head on England's east coast when, in the mid-1970s, an impresario (Attfield) decides the 18-year-olds would make great pop stars. So he sequesters them to a remote manor house, where a musician (Dick) teaches them to sing and play, and a manager (Harris) literally whips them into shape. But when a sexy journalist (Emery) arrives to tell their story, love and drugs boil over into a jealous mix.

The story is told as a retrospective exposť, using intimate footage shot by a documentarian (Bower) plus scenes from a gonzo unfinished Ken Russell film and interviews with the surviving players. It's a fascinating tale, told with authenticity and artistry, but also with perhaps a few too many gaping holes where no one was around to see what actually happened. This leaves it feeling slightly disconnected and aloof, and makes it impossible for us to really identify with any of the characters.

The Treadaway brothers give remarkable performances that are raw and edgy, and really catch both the profound physicality and a sense of siblings struggling to live and work together. Parallels to bands like the Beatles and Oasis are clever, and their punk music rings with youthful anger and energy. The surrounding cast give equally transparent performances as sharply defined people living off these guys' talent, bound by the strangeness of their connection.

Fulton and Pepe (Lost in La Mancha) expertly weave the strands together, with breathtakingly lush cinematography by Anthony Dod Mantle. Much of the film looks otherworldly, tinged with black humour, earthy emotion and terrific music. So it's all the more frustrating when the film starts to feel draggy and repetitive, and then kind of sidesteps its own climax. But along the way it brims with joy and pain, discovery and oblivion. And that makes it well worth seeing.
| | | |
| --- | --- | --- |
| | themes, language, drugs, sexuality | 25.Jul.06 |