R E V I E W B Y R I C H C L I N E
dir Eytan Fox
scr Gal Uchovsky
with Lior Ashkenazi, Knut Berger, Caroline Peters, Gideon Shemer, Eyal Rozales, Yousef Joe Sweid, Carola Regnier, Hanns Zischler, Ernest Lenart, Imad Jabarin, Imke Barnstedt, Natali Shilman
release Isr 18.Mar.04, US 4.Mar.05, UK 1.Jul.05
04/Israel 1h44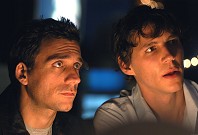 Brothers in arms: Ashkenazi and Berger

BERLINALE
CANNES FILM FEST
TORONTO FILM FEST


Dealing with thorny issues in a thoughtful, insightful way, Israeli filmmaker Fox and his cast create vivid, recognisable characters who dare to grapple with untouchable topics. And even if the story is a bit formulaic, the film is gripping and vitally important.

Eyal (Ashkenazi) is a Mossad hitman struggling to cope with his wife's recent suicide. So his boss (Shemer) puts him on a simple job: play tour guide to German tourist Axel (Berger), in Israel visiting his sister (Peters). Their grandfather was a Nazi officer who might still be in hiding. As Eyal spies on the siblings, he begins to examine for the first time some deeply held views and prejudices ... in more than just racial-political areas.

The plot is complex and layered, constantly surprising us and taking us places we don't really want to go. And it's perhaps the weakest thing in the film, since it plays a bit too closely by political thriller rules. What makes the film essential viewing is the character development, as they express honest, provocative views on a variety of issues, all while living out the central conflicts in their interaction--racism, politics, religion, sexism and even sexuality.

The central friendship between Eyal and Axel almost startlingly authentic. Ashkenazi and Berger get it note perfect--physically, mentally, emotionally--as their layered personalities mesh and clash and each discovers something surprising about himself. There are several moments when we fear it might all go horribly sappy, melodramatic or stupid, but the script stays on just the right side of that fine line, pushing the characters to the brink, but not over it. At the core this is a clash between pessimists and optimists, fanatics and liberals.

It's powerfully introspective, emotional and intelligent, but it's also lively, witty and often quite cynical about the world we've created ('They always play sad songs after a suicide bombing,' Eyal snaps, retuning the car radio). Music plays an important role in the film, encouraging the characters abandon their denial and face the truth about the world. Perhaps this film can do the same thing.
| | | |
| --- | --- | --- |
| | themes, language, some violence, nudity | 9.Jun.05 |