R E V I E W B Y R I C H C L I N E
dir James Mangold
scr Gill Dennis, James Mangold
with Joaquin Phoenix, Reese Witherspoon, Ginnifer Goodwin, Robert Patrick, Dallas Roberts, Dan John Miller, Larry Bagby, Shelby Lynne, Waylon Malloy Payne, Tyler Hilton, Shooter Jennings, James Keach
release US 18.Nov.05, UK 3.Feb.06
05/US Fox 2h17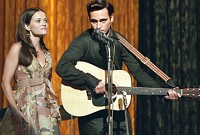 Burning ring of fire: Witherspoon and Phoenix




• READER CHOICE:
ACTRESS Reese Witherspoon

This biographical film locks us in our seats with a piercing stare that echoes Johnny Cash's riveting personality. And although the straightforward story feels virtually the same as every other musician of the period, it comes to life in two awards-worthy performances.

With a distinctive songwriting and performing styles, Cash (Phoenix) rose to fame through the 1950s as a member of the Sun Records stable, touring with innovators like Elvis Presley (Hilton), Jerry Lee Lewis (Payne), Waylon Jennings (played by his son Shooter) and June Carter (Witherspoon). Having grown up with Carter's music, Cash has an instant crush on her, despite his wife (Goodwin) back home. As expected, the pressures of the road give way to horrible drug use and womanising, and after he bottoms out it's Carter who helps reassemble him into a late-60s legend.

Yes, the story is extremely familiar, not only echoed among his contemporaries (and today's stars), but also in just about every other rock-n-roll biopic. This simple fact keeps the film from being something truly special, even though the story is especially well-told. Mangold's direction is sharp and bluesy, effortlessly capturing the period and maintaining a smooth pace and tone in which the actors shine. But he never centres on one thing in the story that would make the film distinctive, choosing instead to stick with the standard movie structure--rocket to fame, childhood demons, fall from grace, rocky redemption and epic love story. All of these things are powerful, but they feel rather too movie-perfect.

The acting, on the other hand, is worth shouting about. Phoenix inhabits Cash in a startlingly moving way, capturing his gruff honesty, growling vocalisations and forceful presence, even in the dark, difficult scenes. But it's Witherspoon who walks away with the film; her performance is note perfect, no pun intended, as Carter mixes wacky humour and raw grit both on stage and off. It's a bracingly lively and honest performance that balances Phoenix perfectly and makes their incredibly long-in-the-making romance the best thing about the film. And that makes the film more than worth seeing.
| | | |
| --- | --- | --- |
| | themes, language, drugs | 27.Oct.05 lff |