R E V I E W B Y R I C H C L I N E
dir Andrew Adamson
scr Ann Peacock, Andrew Adamson, Christopher Markus and Stephen McFeely
with William Moseley, Skandar Keynes, Georgie Henley, Anna Popplewell, Tilda Swinton, Jim Broadbent, James McAvoy, James Cosmo, Kiran Shah, Patrick Kake, Elizabeth Hawthorne, Judy McIntosh
voices Liam Neeson, Rupert Everett, Ray Winstone, Dawn French
release UK 8.Dec.05, US 9.Dec.05
05/NZ Disney 2h20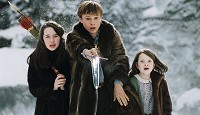 A ray of hope: Popplewell, Moseley and Henley (above); Aslan with Keynes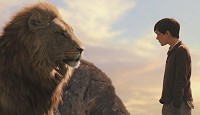 See also: INTERVIEW WITH DIRECTOR ANDREW ADAMSON
---



Talk about long-awaited. This is based on the first* book in the second most popular series in history (Harry Potter holds the title). And the filmmakers have gone for broke, combining spectacular imagery and rousing energy. Although it's perhaps a bit overdone.

In WWII London, the four Pevensie children--Peter, Edmund, Susan and Lucy (Moseley, Keynes, Popplewell and Henley)--are evacuated to the countryside to escape the Blitz. While playing hide and seek in their isolated manor house, Lucy stumbles through a wardrobe into the land of Narnia, kept in perpetual winter by an evil witch (Swinton). Soon all four children are caught up in an impending battle between the witch and her nemesis Aslan the lion (voiced by Neeson).

CS Lewis' seven Narnia novels are a marvel of imagination; this episode is packed with all manner of beasts straight out of mythology, plus a classical storyline as old as time itself. It's a bundle of intriguing characters, tense situations, lively action and fateful events. And it utterly grips the child inside us, taking us on a remarkable adventure through filmmaking artistry. Most of the animation is stunning, although like the Star Wars prequels you get the feeling that much of the film was shot against a green screen.

The characters themselves are slightly dull (frankly, you expect more spark from the director-cowriter of Shrek). Sure, each has his or her personality quirks, but the child actors aren't mature enough to add subtext or depth, and that's even harder to do with an animated lion. This leaves McAvoy's faun Tumnus and Swinton's spiteful witch as the most vivid characters. Fortunately, Lewis' story is compelling and resonant enough to transcend this.

The real problem is that everything is slightly inflated. The battles are too big, the sets over-designed, the costumes rather too costumey, the wardrobe itself positively hulking. This twee hyperbole won't stop a child from falling in love with this world, but it prevents the film from being a proper classic. Although it's still a seriously great story with powerful themes. Which you really must see.
| | | |
| --- | --- | --- |
| | themes, suspense, violence | 22.Nov.05 |
* The Lion, the Witch and the Wardrobe may be the second book chronologically in the Chronicles of Narnia, but it was actually the first book Lewis wrote and published, in 1950. The Magician's Nephew was written sixth, as a prequel, and published in 1955.


Lee, Malaysia:

"It was good - very faithful to the book. The magic was beautifully rendered and there were plenty of funny and touching moments - especially one involving Edmund and a coat. That was the good part. Now here come my gripes: (1) The cliches. The scenery and the white witch's army looks like a re-run of Lord of the Rings. Aslan looks like a lion, which is fair but I would have preferred that they make the lion a little more stylized so that we can at least distinguish it from any other lion. (2) The script. The movie follows the book quite closely but I was hoping that the characters would talk more so that we can get a better feel of them. The dialog many times came across as stilted, especially in the battle scenes. I mean, do children really talk and act so stiffly in the heat of battle?" (6.Dec.05)

Renee, net: "Through out the whole movie I was like just waiting for William Moseley (Peter) to have another scene, because he is just gorgeous! Oh and the movie was great too! I couldnt beleive how adorable and what great acting little (what is she like 7 or 8?) Georgie Henley did! Wow they sure did an awesome job on picking the cast for that film! My favorite part about the movie was anytime a wolf would come out the whole entire audience would gasp and like it totally just kept you on your toes through the whole movie! Good job you guys!" (10.Dec.05)

flowerbells, Oregon:

"I found it boring and dull. The 5 year old friend who accompanied me was also bored. Who in either of our generations knows what a 'wardrobe' is? That is 3 or 4 generations ago! My mother, now 89, got trapped on one, when she was 5, in 1922. I remember that my grandmother had one. But we did not, and I grew up in the 1940s and 1950s. The only ones that still existed at that time were ones that had belonged in the previous generation. I thing the whole story is tacky. A lot of people are being fooled into not letting themselves say this. Finally, a movie reviewer in Willamette Week this week actually panned the movie. Whew!" (17.Jan.06)

Harvinder Pawar, UK: "This is the best film I have ever watched. I am 9 years old and I admire especially Georgie Henley, William Moseley, Anna Popplewell, Skandar Keynes, James McAvoy and everyone that played a part in this fabulous film. If I could I would give Georgie, William, Anna and Skandar a special award for being such wonderful characters. I found it really enjoyable to watch. Everyone in this film are stars - the best actors, actresses, scriptwriters, directors, editors and composers." (25.Jan.06)

Jenna, USA:

"This movie is fabulous! I don't believe anyone could have done a better job. I have read the book series as soon as I could have understood the words and could read (2nd grade). When I saw the movie the day it came out, I was so excited because that is the way I imagined it my whole life. Since then, I've seen it 2 more times . I hope they continue on with Prince Caspian. As for the actors, they did a wonderful, fantastic job. Especially Georgie Henley, who portrayed my exact version of Lucy. When my 6 year old cousin saw it with me, she loved it so much that she named her baby doll Lucy!" (8.Feb.06)