Shadows readers submitted to a list of questions that have been answered by the filmmaker in four instalments. Here's part one, talking about child actors and sharing personal anecdotes . . .
Can you describe what it is like to work with four children as your main-cast members?
I was initially a little intimidated at the idea of working with kids, largely because I just hadn't spent that much time around teenagers lately. In fact I found it better than I could have imagined. Children are just so open to their imaginations and that makes them such wonderful actors, they're willing to go where you want the story to take them.
What is the first question you asked in casting the actors for the four leading roles?
Honestly, I was looking for kids who basically were those characters so they wouldn't have to worry about acting, they could just be themselves. In Lucy, we found an adorable child who was empathetic and imaginative. In Edmund, we found a boy whose natural curiosity and tendency toward mischief, was a big part of his personality (Skandar would agree), in Susan we found a beautiful girl who is very smart and together, in Peter we found a boy on the midst of becoming a man, who was also good at being a caring and nurturing older brother, which William is.
Even for adults, certain scenes in the book are pretty dark. How did you tackle those for/with the children?
C.S. Lewis could write something like "I can't tell you how bad it was or your parents wouldn't let you read this part". In the movie we had to deal with visualizing those moments. There are dark moments, there are scary moments, emotional moments, tragic moments. I wanted to bring these to life in a way that dealt with the reality of life and death situations but in a way that wouldn't prohibit younger children from enjoying the film. Kids like being scared as long as there is relief at some point, there is no need to be traumatizing or graphic to get the emotional effect that the book reached for.
If you could be one of the Pevensie children, which would you choose?
That's pretty easy, Peter gets the cool sword from Father Christmas. Of course I would probably much more likely be Edmund!
What had the strongest impact on you while shooting the movie or during post production?
I think the greatest impact on me was my relationship with the children. I really grew to feel about them as I did my own family. It's such an intensive journey that we've all been on together and we will always share that. I hope to still be in contact with all of them as they grow to achieve all the wonderful things that I think they're each capable of.
Which was your favourite scene to shoot?
Different scenes for different reasons. I actually loved the difficulty of the battle because it was also outdoors and physically challenging. I loved scenes with Lucy and Tumnus, because Georgie and James were such fun together. There were many moments when I knew that we were making something special: Susan and Lucy crying over Aslan was sadly beautiful; the White Witch turning on Edmund is a wonderful scene between Tilda, Skandar and Kiran; seeing William ride into battle in Peter's armour. They are too many to mention.
Did you experience any truly funny incidents during filming?
Many of these fall into the "you had to be there" category: Tilda leading a bunch of Minotaurs in a song - using her wand as a microphone - while we circled them in a helicopter waiting for the sun to come out; setting Skandar up to believe that he had to take part in a dance and had him rehearsing some invented (and rather embarrassing) moves; the four kids ridiculing me for my attempts to play the off-screen Mrs Beaver; all the kids breaking in song in the middle of a take to embarrass one of camera operators. I don't know if these are truly funny to anyone who wasn't there – but we did get to laugh a lot throughout the shoot.
If you had a wardrobe like the one in the movie, where would you like to go to through it?
Narnia of course – but just about anywhere. I love the idea of going anywhere new. There are so few undiscovered places in our world that I like the idea of discovering new ones. I think this is one of the joys of movie making, being able to visit imagined worlds.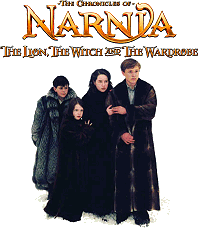 The Chronicles of Narnia: The Lion, the Witch and the Wardrobe is based on the first novel in CS Lewis' seven-part Narnia series. It opens on December 9th worldwide.
dir Andrew Adamson
scr Ann Peacock, Andrew Adamson, Christopher Markus and Stephen McFeely
with Anna Popplewell (Susan), Georgie Henley (Lucy), William Moseley (Peter), Skandar Keynes (Edmund), Tilda Swinton (White Witch), Jim Broadbent (Prof Kirke), James McAvoy (Tumnus), James Cosmo (Father Christmas)
voices Liam Neeson (Aslan), Rupert Everett (Fox), Ray Winstone and Dawn French (Mr & Mrs Beaver).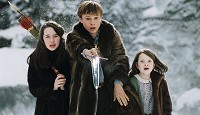 Andrew Adamson is from Auckland, New Zealand. He previously directed Shrek and Shrek 2, which he also cowrote. Before that worked as a visual effects supervisor on three Joel Schumacher films, including his two Batmans.