R E V I E W B Y R I C H C L I N E
dir-scr Shane Black
with Robert Downey Jr, Val Kilmer, Michelle Monaghan, Corbin Bernsen, Larry Miller, Shannyn Sossamon, Dash Mihok, Rockmond Dunbar, Angela Lindvall, Vincent Laresca, Ali Hillis, Ariel Winter
release US 21.Oct.05,
UK 11.Nov.05
05/US Warners 1h43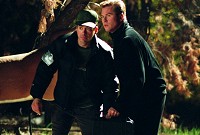 Gun crazy: Downey and Kilmer



CANNES FILM FEST
TORONTO FILM FEST
AFI L.A. FILM FEST
LONDON FILM FEST


Action screenwriter Black (Lethal Weapon) gets the chance to direct his own material, and the result is one of the most enjoyable romps in ages--knowing, witty, clever and full of outrageously good action.

Harry Lockhart (Downey) offers a post-modern narration to his story: a low-life crook back East who literally stumbles into a film audition and ends up in Hollywood tagging along with a private investigator (Kilmer) to prepare for his screen test. Then he runs into an old friend (Monaghan) he's always had a crush on, and he also ends up in the middle of two murder cases. While the body count continues to grow.

From the childhood prologue and the sleekly animated titles, Black creates a film that's a gigantic in-joke, but he smartly keeps the audience right on the inside. Everything here is a nod to cinema--he's playing with structures and forms, cliches and expectations. The baddest guy in the movie is gay. The glaring red herrings are actually rather important. Nasty things actually happen to the central characters. The banal realities of the film industry really do determine what we see on screen.

This is all done with a high-energy, freewheeling style and a convoluted L.A. noir plot straight from Raymond Chandler or James Ellroy. It's also infused with sharply hilarious banter, wild action comedy and the constant understanding that we're watching a movie that borders on being a spoof. Fortunately, this concoction works, partly because Black never loosens his grip on the material but also because the cast are clearly having a great time.

Downey is divinely hyperactive, brilliantly maintaining Harry's constant imbalance and developing a terrific sense of chemistry with both Kilmer and Monaghan. Kilmer hasn't been this watchable for years; his timing is impeccable, and he wonderfully makes the very most of his character's ambiguous sexuality. Monaghan is also great fun in what could be the film's most thankless role, but is actually a sharply drawn romantic-comedic character all her own. Perhaps the film feels a bit too smug for its own good, but it's so much fun that we wouldn't want it any other way.
| | | |
| --- | --- | --- |
| | themes, language, violence, nudity | 26.Sep.05 |