R E V I E W B Y R I C H C L I N E
dir David Cronenberg
scr Josh Olson
with Viggo Mortensen, Maria Bello, Ashton Holmes, Ed Harris, William Hurt, Peter MacNeill, Stephen McHattie, Greg Bryk, Heidi Hayes, Kyle Schmid, Ian Matthews, Steve Arbuckle
release US 23.Sep.05,
UK 30.Sep.05
05/Canada New Line 1h36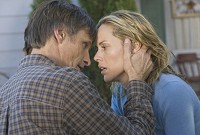 Rock my world: Mortensen and Bello




• TOP 10 FILM
• BEST ACTRESS Maria Bello


It's impossible to overstate how important this powerfully engaging drama is, reaching deep inside to confront us with our attitudes toward violence and aggression.

Tom Stall (Mortensen) is a cafe owner in rural Indiana, living an idyllic life with his wife (Bello), teen son (Holmes) and young daughter (Hayes). When two thugs (McHattie and Bryk) try to rob him, Tom reacts with shocking precision, drawing the attention of the press, which in turn catches the eye of a Philadelphia mobster (Harris) who insists that Tom is actually someone else. Even as Tom insists he is who he's always claimed to be, everyone around him begins to have serious doubts.

Based on a graphic novel, Cronenberg and Olson develop this story meticulously, keeping every step of the astonishing plot solidly within the realms of believability. The characters react to the events in bracingly authentic ways that really get under our skin--we keep thinking how we'd react in the same situations. It's such a raw, provocative story that as it develops and takes us into some fairly mind-blowing territory, we aren't sure we want to travel this path. Which is precisely the point.

Performances are remarkable. Mortensen finally explodes on screen with all the promise of his previous roles; this is a staggeringly well-balanced, muted portrayal of a man whose life is pulled out from under him. Bello is amazing as well; their scenes together are a jolt of chemistry and connection. Harris is terrific as the shady, scarred gangster; while Hurt really lets rip with attitude and menace. And Holmes holds his own in this formidable company with a fully rounded character who has an internal journey all his own.

This is elegant, simple, profoundly intelligent filmmaking that gauges the story impeccably. It's mysterious without ever trying to trick us, surprising without being over-clever, witty and funny and sexy and terrifying when it needs to be. And more than that, it forces us to grapple with our own attitudes and feelings. It's essential viewing for adult moviegoers who want to engage both their hearts and minds.
| | | |
| --- | --- | --- |
| | themes, strong violence, language, nudity, sexuality | 7.Sep.05 |


Mark Compton, Swindon, England:

"What a fantastic thought provoking film, this has to be the best film by far i have seen this year!" (6.Oct.05)

Jamie Garwood, net: "A really interesting film to view in the cinema, as the impact of the violent scenes will be missed on a smaller screen. Cronenberg has the benefit of a talented cast; Bello is amazing how consistent is she and how good can she become. But he excels in restraining the scenes of drama and then bringing his hand to the action sequences. Some brilliant editing and camerawork also. Brilliant." (18.Oct.05)

mark Lloyd, Chicago:

"A little explanaton would've made all the difference in the world. I simply don't see good enough reasons why the main character was the master of violence that he was, what prompted him to change, and why his old enemies would look for him about an old grudge, when it was so obvious that he could easily kill them all. In my experience, you're just glad a guy like that is gone. This film congratulated itself on it's 'realistic' violence, but it seems that director's idea of realism is merely not using slow-motion filming, rather than searching for some actual explanations about how this could really come to pass. Its beginnings as a graphic novel explain to a certain extent." (31.Jun.06)