R E V I E W B Y R I C H C L I N E
dir-scr Cameron Crowe
with Orlando Bloom, Kirsten Dunst, Susan Sarandon, Alec Baldwin, Bruce McGill, Judy Greer, Jessica Biel, Paul Schneider, Loudon Wainwright, Gailard Sartain, Jed Rees, Paula Deen
release US 14.Oct.05, UK 4.Nov.05
05/US Paramount 1h04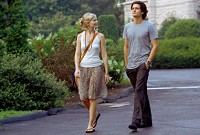 Take a walk on the wild side: Dunst and Bloom



VENICE FILM FEST
TORONTO FILM FEST



Cameron Crowe's films tend to feel like love letters. And this one's like a big mix tape he made for his father. It's both strongly involving and a bit too clever for its own good.

Drew (Bloom) is an up-and-coming sports-shoe designer who's just lost his company almost $1 billion. Shamed to within an inch of his life, he learns that his father has died, and he needs to travel to Elizabethtown, near Louisville, to sort out the details. On the way, he meets the quirky and chatty flight attendant Claire (Dunst), who kind of refuses to leave his life once she enters. As he gets to know her, he must also come to grips with his extended Kentucky family. And his relationship with his dad.

These aren't exactly new themes for a movie, and Crowe doesn't offer particularly extraordinary insights. The bare bones of the film are extremely basic. It works only because the characters are vivid and well-acted, and Crowe's dialog is sharp and witty. Bloom finally gets a leading role he really fits into, and while layering is still somewhat beyond him, the character is believable and engaging. Dunst is charm personified--intriguing, cute, likeable and smart. And Sarandon gets a few surprisingly strong scenes, even managing to preserve her dignity through a eulogy that turns into a vaudeville routine.

Crowe's script is a bundle of running gags, moving moments and comical tension. His whimsical tone continually catches us off guard, and in this sense the film feels like a companion piece to the more richly textured Almost Famous. There's a sense here that Crowe is trying to cram every possible father-son message into one film, with varying relationships between Drew and his dad, as well as uncles and cousins and their sons. And as it veers into a road trip of self-discovery, it becomes stuck in that movie world where nothing seems remotely authentic. People simply aren't this bright or funny all the time. Events aren't this brilliantly staged. Life doesn't pass by in musical montages. It's a beautifully made film, but as one character observes, "it's something sweet that melts in five minutes".
| | | |
| --- | --- | --- |
| | themes, language, innuendo | 13.Oct.05 |