The Terminator


dir James Cameron
scr James Cameron, Gale Anne Hurd, William Wisher Jr
with Arnold Schwarzenegger, Linda Hamilton, Michael Biehn, Paul Winfield, Lance Henriksen, Bess Motta, Rick Rossovich, Bill Paxton, Earl Boen, Shawn Schepps, Dick Miller, Marianne Muellerleile
release US 26.Oct.84, UK 11.Jan.85
reissue UK 16.Mar.01
Orion 84/US 1h48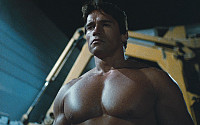 Unstoppable force: Schwarzenegger's most iconic role

See also: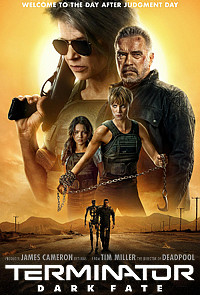 TERMINATOR 3 (2003)
TERMINATOR SALVATION (2009)
TERMINATOR GENISYS (2015)
R E V I E W B Y R I C H C L I N E

Well, he said he'd be back. Arnold's first big hit returns to UK cinemas with a fully restored print and digital sound to commemorate the film's DVD release. And I've got to admit it looks fantastic up there on the big screen where it belongs.

The story is deceptively tricky: During a future war between mankind and machines, a murderous robot (Schwarzenegger) comes back to the 1980s from the future to kill the mother of the as-yet-unborn leader of the human rebellion. He's followed by a freedom fighter (Biehn) who tracks down the leader's mother-to-be (Hamilton). Meanwhile, two L.A. cops (Henriksen and Winfield) try to figure out who's causing so much mayhem across the city.

In comparison to today's much more packaged thrillers, this is a surprisingly vicious little film, filled with indiscriminate, un-PC killings and a rough-edged feel that makes it utterly compelling. There's real heart and soul here, along with Arnold's best-ever performance--as a mindless killing machine. Hamilton's performance as Sarah Connor is terrific, but really springs to life in the 1991 sequel.

The breakthrough, yet now very cheesy, special effects still work, thanks to the decent story, which grabs us right away and carries us to the end with rollercoaster action sequences and clever time-travel twists. But the biggest surprise is that, despite nearly 17 years of copycat films and astonishing progress in special effects, this essentially small film still holds up very nicely indeed. And it's worth looking out for in a cinema if at all possible.
| | | |
| --- | --- | --- |
| | themes, language, violence, brief nudity | 16.Feb.01 |

Terminator 2: Judgement Day


dir James Cameron
scr James Cameron, William Wisher
with Arnold Schwarzenegger, Linda Hamilton, Edward Furlong, Robert Patrick, Earl Boen, Joe Morton, S Epatha Merkerson, Castulo Guerra, Danny Cooksey, Jenette Goldstein, Xander Berkeley, Ken Gibbel
release US 3.Jul.91, UK 16.Aug.91
91/US Carolco 2h17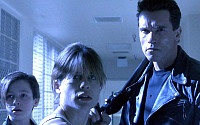 Unstoppable team: Furlong, Hamilton and Schwarzenegger
R E V I E W B Y R I C H C L I N E

NB. This is my original review, from the June-July 1991
printed issue of Shadows on the Wall:
When Arnold Schwarzenegger said, "I'll be back|" in The Terminator (1984), we smiled. He's said those words in every film he's made since. Yet this is the first time he's actually come back in a sequel. OK, so he's not playing the exact same character in Terminator 2, Judgement Day (this time he's a good cyborg). But who cares. He's up there on the screen having a great time in the most expensive film ever made (near $100 million).
And the budget shot. T2 boasts some of the most eye-popping special effects ever seem, due to the introduction of a new bad cyborg who can transform into any shape he wants ... right there on screen. James Cameron first dabbled with this effect in The Abyss, when the underwater aliens manipulate water into various shapes. Here he goes hog wild. And you won't believe what you see.
This isn't to say that the film is all special effects. There are also the stunts and chases - heart-pounding sequences that make James Bond films look like kid's stuff.
T2 is a rip-roaring, violent action film tat actually has solid characters and a decent dramatic subtext. The film's message (about the value of human life) is woven nicely through the storyline. Then, at the end, just in cast you missed it (yeah, right!), they lay it on real thick.
The cast is quite good - especially Linda Hamilton in a demanding role. And the script doesn't scrimp on humor. Even so, it's a bit overwhelming in its brutality. When this many bullets fly, you start to forget that it takes only one to change the world.
| | | |
| --- | --- | --- |
| | themes, language, violence | Miami, Jun-Jul.91 |
© 1991/2001 by Rich Cline, Shadows on the Wall
HOME | REVIEWS | NEWS | FESTIVAL | AWARDS | Q&A | ABOUT | TALKBACK