dir McG
scr John Brancato, Michael Ferris
with Christian Bale, Sam Worthington, Helena Bonham Carter, Anton Yelchin, Moon Bloodgood, Jadagrace, Bryce Dallas Howard, Common, Michael Ironside, Jane Alexander, Ivan G'Vera, Chris Browning
release US 21.May.09, UK 3.Jun.09
09/US Columbia 2h10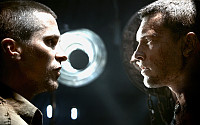 Face off: Bale and Worthington


---
See also:
THE TERMINATOR (1984)
TERMINATOR 2 (1991)
TERMINATOR 3 (2003)
TERMINATOR GENISYS (2015)
R E V I E W B Y R I C H C L I N E

It's been six years since T3, but writers Brancato and Feris (they wrote Catwoman in between) are back with a script that's even more bombastic and less interesting. It may look fantastic, but there's absolutely nothing to it.

Marcus Wright (Worthington) is executed for his crimes in 2003, but mysteriously awakes in 2018 after Los Angeles has been decimated by machines. With the help of a stranded pilot (Bloodgood), he makes contact with the human rebels, led by fiery hothead John Connor (Bale). And everyone, including Marcus, is shocked to find out that he's actually part-machine. But Marcus has news about Kyle Reese (Yelchin), who's destined to become John's father (see T1). So John launches a desperate mission to save Kyle before the rebel commander (Ironside) blows everything up.

If it weren't for the cool-looking visuals, the appallingly cliche-filled script would be a Batman & Robin-type franchise-killer. McG gives the film a terrifically gritty sheen, with a sepia colour scheme and soot-covered sets, props and faces. The superior effects are seamless, and every scene seems to include gigantic fireballs for no apparent reason, plus frequent spectacular explosions.

Meanwhile, the cast give it a lot of energy and gravitas, as if it was grounded in any kind of reality. The edgy, watchable Bale does his Batman growl all the way through, while Worthington valiantly tries to give Marcus a soul despite the thin script. Yelchin adds some terrific emotional intensity and Bonham-Carter has fun with her intriguingly twitchy role as a dying scientist. No one else really registers at all, mainly because there's so little going on beneath the surface. And the surface itself is preposterous.

Essentially everything here is macho-posturing eye candy--grunting dialog, whopping set pieces, gruelling digitally enhanced stunts, heavy-handed Nazi symbolism. There are also constant lapses in logic (Kyle has never driven a car, yet leaps into a battered jeep and roars off-road, dodging bullets and trees then making a perfect hand-break stop). On the other hand, the gimmickry will make fanboys squeal with glee as zippy motorbikes peel out of gigantic robot monsters and robotic eels (plus a digital Arnie!) attack our heroes. In the end, it's essentially Mad Max vs Transformers, except without anyone we remotely care about.
| | | |
| --- | --- | --- |
| | themes, violence, language | 22.May.09 |