Reviews are listed alphabetically.
Festival films that get a general release get their own review pages.
On this page: BIG BAD LOVE | DRIVE-IN MOVIE MEMORIES | SMELL OF CAMPHOR | SPRING OF LIFE | WHO IS BERNARD TAPIE

LONDON FILM FESTIVAL


ST LOUIS INTERNATIONAL FILM FESTIVAL
Back to the SHADOWS FILM FEST page • last update 21.Nov.01

BIG BAD LOVE
SHADOWS

MUST-SEE
dir Arliss Howard • scr Arliss Howard, James Howard
with Arliss Howard, Debra Winger, Paul LeMat, Rosanna Arquette, Angie Dickenson, Zachary Moody, Olivia Kersey, Michael Parks, Gloria Jackson Winters, Johnny McPhail, Casey Dillard, James Howard
US release 22.Feb.02
IFC 01/US 1h51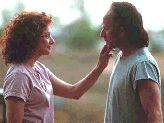 REVIEW BY RICH CLINE
Actor Howard steps into the director's chair with this artful examination of life and love based on Larry Brown's stories. As a result, it's rather episodic, looking at the central character Leon (Howard) in a series of events that all add up to a revelation of sorts as with his best pal Monroe (LeMat) he copes with being apart from the loves of his life, exwife Marilyn (Winger) and their two kids (Moody and Kersey). In the meantime he's trying against the odds to publish stories and poetry based on hislife and experiences. Filmed in a stunningly visual style, it's at once literary and cinematic, using Leon's (Brown's) writings as a framework on which to hang imagery of all kinds--home movies of past experiences, little clips of ideas and memories and lots of Mississippi scenery. It's an effectively contemplative film, and Howard's writing, direction and acting get well beneath Leon's skin--he's a scatterbrained drunk, but we see his heart. Winger is stunning in her role, and the supporting cast all create memorable figures around the central duo. The fragmented, surreal style can be a bit off-putting, but the film's aching beauty transcends the narrative with a haunting, almost sad hopefulness. It's constantly intriguing and often so gorgeous it hurts. [themes, language] 13.Nov.01 sliff

DRIVE-IN MOVIE MEMORIES
dir Kurt Kuenne
with Leonard Maltin, Joe Bob Briggs, Robert Fuller, Barry Corbin, Beverly Garland, Steve Stevens, Samuel Z Arkoff, Ann Robinson, Burton Gilliam, Don Sanders, Susan Sanders, Jon Bokenkamp
St Louis Film Fest Nov.01
01/US 1h07

REVIEW BY RICH CLINE
With a heavily nostalgic slant, this short feature documents the rise, fall and rebirth of the drive-in cinema over nearly 100 years, starting with the first outdoor movie shows in Hawaii in 1906 right up to newly built modern drive-ins. It's packed with hilarious clips of wacky promos, B-movies of all description and lots of memories from stars of those films, as well as people who simply grew up at the drive-in. There's nothing particularly analytical about the film, and it is short on the really personal anecdotes that make documentaries spring to life. High points are the story about going to a drive-in in Alaska during a snowstorm, the Blazing Saddles world premiere (in a drive-in, on horseback!), and the section on teen flicks--bad thrillers, beach movies and sex in the back seat. Nicely assembled using only the guests reminiscences, it's all rather earnest and romanticised--not necessarily a bad thing, as drive-ins are mostly the stuff of fond memories. But it could have used a more cynical sense of humour, a bit more critical objectivity and perhaps a more structured approach to guiding us through the history to make this spring to life as a film experience of its own, rather than just a stroll down memory lane. [some themes] 12.Nov.01 sliff

THE SMELL OF CAMPHOR, THE FRAGRANCE OF JASMINE
SHADOWS

MUST-SEE
dir-scr Bahman Farmanara
with Bahman Farmanara, Hossien Kasbian, Mahtaj Nojoomi, Reza Kianian, Parivash Nazarieh, Valiyollah Shirandami, Roya Nonahali, Firouz Behjat-Mohamadi
release US 6.Apr.01; London and St Louis Film Fests Nov.01
00/Iran 1h33

REVIEW BY RICH CLINE
Writer-director Farmanara plays a filmmaker in this intriguing and very thoughtful examination of death, which somehow managed to stay both hopeful and gently funny. The character's name is Farjami, and he hasn't made a film in ages, while he grieves over the loss of his wife five years earlier. In the film's first act, he has "A Bad Day" when death seems to assault him from all sides and he begins to wonder if maybe his time is up. The middle section is subtitled "Funeral Preparations" as Farjami gets everything ready, ostensibly for a documentary he's making about Iranian funeral traditions. And finally, in "Throw a Stone in the Water" he confronts his own mortality. This beautifully made film is a remarkable combination of dry wit and a sense of lonely desperation. We get deep beneath the skin of the central character as he goes through this dark period in his life, never losing his sense of humour in his interactions with others, right up to the moment when he sees his own funeral and cries "Cut!" because everything is wrong. The title refers to scents that guide his memories--camphor is applied to corpses, jasmine reminds him of his youth. And while the whole thing is indeed fairly dull and dark, it is so lovely and provocative that it can't help but spark our imaginations, emotions and memories. [themes, brief violence] 12.Nov.01 sliff

Der Lebensborn: THE SPRING OF LIFE
dir Milan Cieslar • scr Vladimir Korner
with Monika Hilmerova, Michal Sieczkowski, Johana Tesarova, Karel Dobry, Bronislav Poloczek, Vilma Cibulkova, Alois Svehlik, Bozidara Turzonovova
St Louis Film Fest Nov.01
00/Czech 1h47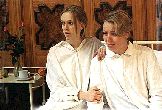 REVIEW BY RICH CLINE
This compelling, chilling story of Nazi activities taken from screenwriter Korner's novel can hardly fail to grip us. And with this lush production it does, despite a rather odd approach to the narrative. Gretchen (Hilmerova) is a very young Czech woman who in 1939 is identified by the occupying Germans as the perfect Aryan. So they whisk her away to a Polish spa town, where she is groomed along with other "perfect" girls to father a racially pure child. But once she figures out what's going on, she plots to undermine their plans. The story is so important that we can forgive the filmmakers' overpowering sense of seriousness here. But it kind of undermines the dramatic power of the story to know everything long before Gretchen does. We want to feel her odyssey from innocence to horrific reality, we want to enjoy the romantic plot twist, but we are too far ahead of her to really experience these things with her. This awkward structure (and some overwhelmingly emotional music at the end) can't really destroy the film--it's beautifully filmed and acted, the story is astonishing, and the truth is, like most tales of Nazi Germany, horrifyingly unthinkable. But with a little more focus the film could really floor us. [themes, violence, nudity, language] 14.Nov.01 sliff

WHO IS BERNARD TAPIE?
dir Marina Zenovich
with Marina Zenovich, Claude Lelouch, Franz-Oliver Giesbert, Dana Thomas, Jean-Xavier Brager, Laurent Joffrin, Alan Riding, Bernard Tapie
St Louis Film Fest Nov.01
01/US 1h05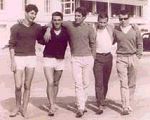 REVIEW BY RICH CLINE
This hilarious documentary is in the Michael Moore/Nick Broomfield style as we follow filmmaker Zenovich on her relentless quest to find out more about the notorious French entrepreneur/actor/politician/ex-con Bernard Tapie. As Zenovich's obsession with Tapie grows, the film takes on a sublime quality as both a serious examination of Tapie's life and career alongside an artful and very funny exploration of our fascination with celebrity in all of its forms. In barely over an hour, we are treated not only to clips galore of Tapie's life and work, but also interviews with several people who knew him. What emerges is a warm but unflinching profile of one of Europe's most outrageous and enigmatic public figures--interviews on the streets show a broad range of opinions and ignorance about the man! And this American filmmaker stumbling through Paris without the ability to speak much French is the perfect hook to get us interested. Zenovich isn't afraid to descend a bit into the madness of obsession, worrying that she's becoming a bit of a stalker, and then freezing when finally faced with the man himself (the climactic shot is simply wonderful!). Terrific stuff. [some themes] 16.Nov.01 sliff