---
The Red Shoes: Next Step
Review by Rich Cline |


dir Jesse A'hern, Joanne Samuel
scr Zachary Layner, John Banas, Peter McLeod
prd Tanya Esposito, Jesse A'hern
with Juliet Doherty, Lauren Esposito, Joel Burke, Carolyn Bock, Primrose Kern, Nicholas Andrianakos, Mietta White, Ashleigh Ross, Laura New, Adam Hedditch, Daniele Clements, Kathy Luu
release Aus 6.Apr.23,
UK 25.Aug.23
23/Australia 1h51

---
Is it streaming?

---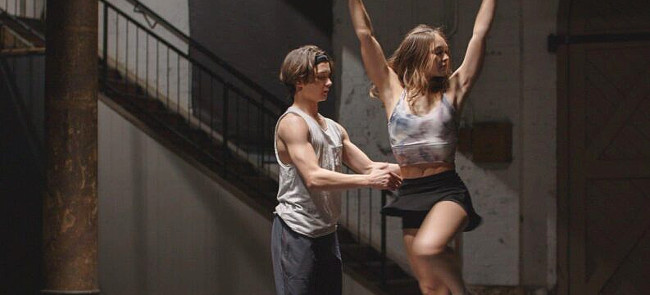 Although it borrows the title of the classic 1948 dance film, this movie takes a far less ambitious approach, deploying characters and plot points that never veer to far from the easy-to-understand standard. So while the dance numbers are nicely choreographed, and several are beautifully shot, the story feels like little more than a cut-and-paste job. Oddly, despite the Australian setting, almost everyone speaks with an American accent.
---
After her sister dies, Sam (Doherty) gives up dancing. But now she's in trouble with best friend Eve (Esposito), so her parents (New and Hedditch) send her back to dance school, taught by the imperious Miss Harlow (Bock). Sam quickly reunites with dance partner Ben (Burke), who's also on probation. But now she threatens the dominance of mean girl Gracie (Kern). And even when things look up for Sam as a performer, she struggles to maintain her connections with Eve and her parents. The question is whether she's ready to face the red shoes again.
---
Each story point is so familiar that there's never a doubt about what might happen next, especially with the timely arrival of several overused plot chestnuts. Of course, Sam's first rehearsals make everyone else's final performances look like hack work. And naturally, she comes to life even more brightly when she sheds the dance shoes. It's no surprise that Miss Harlow is brutally critical because she knows Sam is capable. And the range of conflicts and problems that emerge along the way are solved quickly and easily.

Emotion is conveyed through expressive solo dances and montage sequences, and these allow the actors to express much more than the dramatic scripted scenes do. Doherty and Burke have strong physicality, dancing beautifully on their own and as a couple. They do what they can as actors, even without much nuance in the dialog. And Doherty is nicely relaxed in several sparky scenes with Esposito's enthusiastic Eve, who has a crisis of her own.

Along the way, there are several contrived scenes that play up to expectations but neglect to make logical sense. And the story feels at least 20 minutes too long. Viewers who are able to ignore this kind of thing and get swept up in a nice, pretty story will find plenty to enjoy here. Amid the dancing, the central storylines involve friends and family, so there's a certain warm comfiness about it all. And the dancing itself keeps the movie enjoyable to watch.
| | | |
| --- | --- | --- |
| | themes, language | 20.Aug.23 |
---
Scrapper
Review by Rich Cline |

MUST

SEE

dir-scr Charlotte Regan
prd Theo Barrowclough
with Lola Campbell, Harris Dickinson, Alin Uzun, Cary Crankson, Ambreen Razia, Aylin Tezel, Jessica Fostekew, Joshua Frater-Loughlin, Olivia Brady, Carys Bowkett, Freya Bell, Asheq Akhtar
release US/UK 25.Aug.23
23/UK BBC 1h24

---
SUNDANCE FILM FEST

---
Is it streaming?

---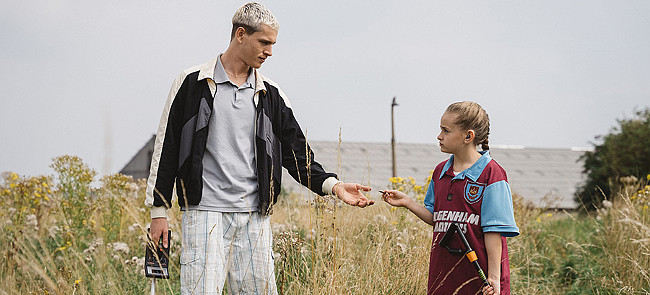 With her feature debut, filmmaker Charlotte Regan emerges as a fresh voice in British cinema, telling an engaging story that's infused with sparky character-based energy. A wonderfully earthy sense of humour blends skilfully with realistic emotional moments to lift this simple story. Add brightly colourful design and unusually vivid characters, and the film pulls the audience into a gentle slice of life that's warm, funny and ultimately moving.
---
After her mother's death, quick-thinking 12-year-old Georgie (Campbell) is determined to raise herself, maintaining her home and carefully noting the stages of grief. She hangs out with best friend Ali (Uzun), playing games and barely avoiding trouble for stealing bikes. She also gets local shopkeeper Josh (Frater-Loughlin) record phrases for phone calls to the school, posing as her guardian uncle. Then after years abroad Jason (Dickinson) turns up, the dad she's never met and certainly doesn't trust. He wants to help, so a battle of wills ensues. They just need to find some common ground.
---
Opening and closing with witty doc-style interviews, the film gives voice to a range of people within Georgie's orbit. And Regan also boldly offers some internalised fantasies that dig around inside the grieving Georgie's imaginative mind. The other kids in the neighbourhood are like clones of their friends (pink girls, yellow boys), in contrast to Georgie's fierce independence. Cinematographer Molly Manning Walker's camerawork is particularly inventive, finding eye-catching angles in settings that bristle with life.

Campbell is a force of nature as Georgie, a young girl who knows exactly what's up and isn't willing to give up control of her life. It's a full-blooded performance with a terrific sense of light and some very dark shadows. And her feisty interaction is fabulous. Dickinson shines as a 20-year-old man who behaves like a teen. So the terrific Uzun's funny-thoughtful Ali connects with Jason much more quickly than Georgie does. But Jason is trying to be a responsible parent, and Dickinson and Campbell develop a wonderfully fizzy chemistry.

It's fascinating to watch these two strangers find unexpected points of connection. Georgie is very good at hiding her more troubling thoughts, and Jason is certainly not looking that deeply. So the film's most powerful point is his realisation that he might need some help. Indeed, there are several moments when both Georgie and Jason make surprising discoveries that will have a major impact on their future. And in the end, this is a vivid reminder that we don't aways have to be fully in control of our lives to be happy.
| | | |
| --- | --- | --- |
| | themes, language, violence | 20.Aug.23 |
---
The Seeding
Review by Rich Cline |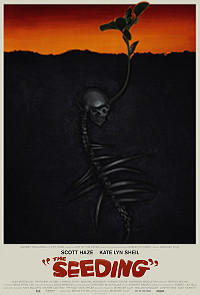 dir-scr Barney Clay
prd Brian R Etting, Josh H Etting
with Scott Haze, Kate Lyn Sheil, Thatcher Jacobs, Alex Montaldo, Charlie Avink, Harrison Middleton, Michael Monsour, Aarman Toure, Chelsea Jurkiewicz, Christa Atkins, Soko
release US Jun.23 tff,
UK Aug.23 frf
23/US 1h34

---
FRIGHTFEST
---
Is it streaming?

---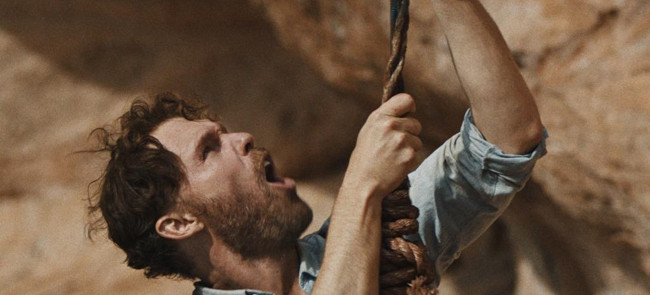 Skilfully creating an atmosphere of claustrophobic dread, writer-director Barney Clay echoes a range of wilderness horror classics as he carefully crafts a modern-day folk tale. And it's deeply disturbing, like some sort of a surreal nightmare. Nothing is terribly original here, but the movie has a confident sheen, building sympathetic characters against the odds as it cautions against venturing into isolated, and insulated, parts of the American West.
---
In the desert to photograph a solar eclipse, Stone (Haze) is distracted by a lost child and soon becomes lost himself. Then he descends into a deep chasm in which Alina (Sheil) lives a seemingly blissful life alone. Unable to escape this crater, Stone asks for help from a group of boys hanging around the hole's edge. But they sppear to be complicit in his entrapment. Soon Stone feels inextricably linked to this strange place as well. But scaling the walls is always on his mind, even as his captivity begins to drive him mad.
---
From the opening shot, it's clear that something is badly awry in this picturesque desert, so we know that Stone's photo shoot is not going to end well. Alina is like a siren who summons him down into her lair, imprisoning him before he knows what's happening, then breaking him down before effortlessly seducing him. With chapter headings that trace moon phases, the story is impeccably shot and carefully controlled, deliberately making it random and disorienting. And the grubby production design and nutcase peripheral characters add to the ambience.

Haze finds textures as a man who is happily going about his life before being dragged into a mind-boggling odyssey. Watching him try to make the best of it, while always looking for a way out, is fascinating. And Sheil gives Alina a knowing mixture of helplessness, enticement and menace. The chemistry between them is offbeat and jarring. Of the roughhousing boys on the canyon's rim, only 12-year-old Lepus (Jacobs) develops a personality, as he makes a connection with Stone. Their conversations about freedom offer a glimmer of hope.

"You belong now," Alina says after one of Stone's painfully disastrous escape attempts. The premise here is almost frighteningly crisp, augmented by imagery of her garden, plus rotting veggies and dead birds. Much of the dialog is heightened and intense, often unintelligible screams as characters lose their ability to speak rationally. Clay goes all-in on chilling sounds and images, leading to the film's single thematic point: that men are perhaps only necessary for one thing.
| | | |
| --- | --- | --- |
| | themes, language, violence, sexuality | 1.Jul.23 bifan |
---

< < I N D I E S > >
See also: SHADOWS FILM FESTIVAL

© 2023 by Rich Cline, Shadows on the Wall


HOME | REVIEWS | NEWS | FESTIVAL | AWARDS | Q&A | ABOUT | TALKBACK