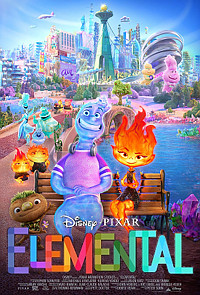 dir Peter Sohn
prd Denise Ream
scr John Hoberg, Kat Likkel, Brenda Hsueh
voices Leah Lewis, Mamoudou Athie, Ronnie Del Carmen, Shila Ommi, Wendi McLendon-Covey, Catherine O'Hara, Mason Wertheimer, Joe Pera, Matthew Yang King, Ronobir Lahiri, Jonathan Adams, Wilma Bonet
release US 16.Jun.23,
UK 7.Jul.23
23/US Pixar 1h43



---
CANNES FILM FEST
---
Is it streaming?

---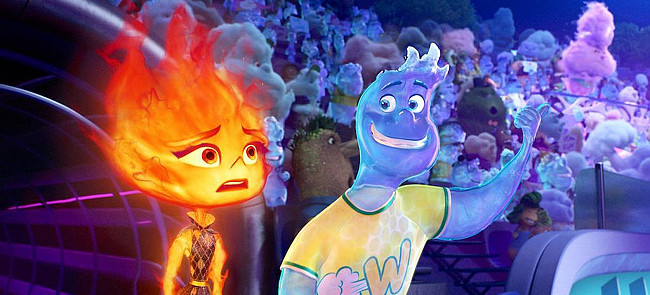 As always, Pixar packs this animated romantic adventure with plenty of humour, emotion and beautiful imagery. Indeed, design elements are rendered with inventive details, witty gags and some jaw-dropping spectacle. The story is based on director Peter Sohn's childhood in an immigrant family, so there are strong themes woven through the narrative. Yet while the premise bristles with clever touches, it also feels oddly underdeveloped and very familiar.
---
Years after Bernie and Cinder (Del Carmen and Ommi) arrived in Element City from Fireland unable to speak the language, they have a thriving corner-shop and a sparky daughter Ember (Lewis), who's chomping at the bit to take over. If only she can get a grip on her hot temper. Then amid a plumbing leak in the basement, she meets watery city inspector Wade (Athie), and they begin to secretly hang out together. Ember and Wade have a strong mutual attraction, but if they touch they run the risk of being extinguished and evaporated, respectively.
---
Residents of this metropolis are crippled by prejudice, mainly because of the danger fires pose to water, clouds and plants. And this water leak in Firetown leads to a much larger story element, as it threatens more than their livelihood. There are also more personal plot points, as Ember discovers an artistic skill making glass from sand. She also has a riotous dinner with Wade's over-emotional family. But the big question is what will happen if Ember and Wade make physical contact.

Even if the way elements are anthropomorphised feels contrived, complete with overcomplicated mythology, the voice cast provides plenty of attitude. Lewis gets to revel in Ember's fiery temperament, which allows Athie to make the unrufflable Wade almost absurdly cute. Del Carmen and Ommi get several terrific scenes, and create a vivid relationship. And expert vocalists McLendon-Covey and O'Hara also add spirit to their roles as Wade's boss and mother, respectively.

In the end, the romantic plotline is strongest because it's the most engagingly developed. Other story threads feel timid, as the script refuses to push anything far enough to make a resonant point. There are only cursory nods to the experiences of migrant families and marginalised people. So there are things to ponder. But Pixar didn't build its brand by playing it safe or appealing to the majority. These animators continue to exceed expectations visually. But with a bit more bold truth-telling, and perhaps a less constructed setting, this could have been something much more powerful.
| | | |
| --- | --- | --- |
| | themes, innuendo | 13.Jun.23 |
R E A D E R R E V I E W S

Still waiting for your comments ... don't be shy.