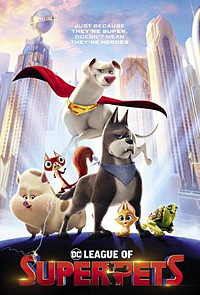 dir Jared Stern
scr Jared Stern, John Whittington
prd Patricia Hicks, Dwayne Johnson, Dany Garcia, Hiram Garcia, Jared Stern
voices Dwayne Johnson, Kevin Hart, Kate McKinnon, John Krasinski, Keanu Reeves, Vanessa Bayer, Natasha Lyonne, Diego Luna, Olivia Wilde, Marc Maron, Ben Schwartz, Thomas Middleditch, Jemaine Clement, Jameela Jamil, Daveed Diggs, Dascha Polanco
release US/UK 29.Jul.22
22/US Warners 1h45




---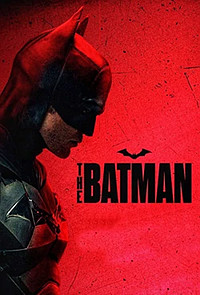 ---
Is it streaming?

---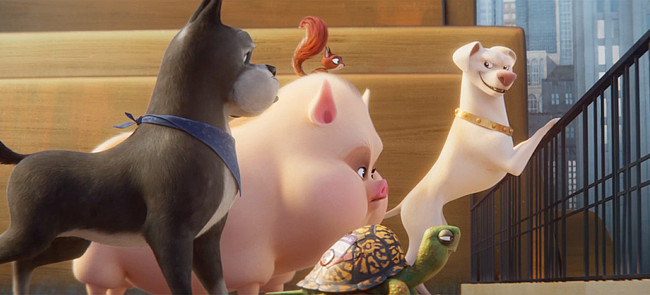 Even though this lively animated action romp is packed with smart gags and hilarious throwaway zingers, there's a general weariness to the formula that's difficult to escape. From the cute setup to the emotive flashbacks, the film is punctuated by the usual action mayhem leading to the expected conclusion. But along the way, there are plenty of enjoyable moments, including especially amusing vocal performances from the starry cast.
---
Accompanying baby Superman to Earth, the puppy Krypto (voiced by Johnson) grew up as his best pal. So now he's getting jealous of Lois Lane (Wilde). When Lex Luthor (Maron) loses control of a sinister plan, a group of homeless pets end up with superpowers. These new abilities go to the head of hairless guinea pig Lulu (McKinnon), who kidnaps the entire Justice League then sets out to conquer the world. So now Krypto must work with stray dog Ace (Hart), pig PB (Bayer), tortoise Merton (Lyonne) and squirrel Chip (Luna) to save the day.
---
Silliness infuses the plot, even as it follows a well-worn structure. This means that the fun comes from absurd characters who gleefully embrace abilities they have no idea how to control, while Krypto has to cope without his (thanks to Lulu's cunning plan). Walking off with the film, McKinnon turns the tiny, utterly ridiculous Lulu into a frighteningly delusional megalomaniac who surrounds herself with a team of mutant guinea pig goons. And Reeves is the other scene-stealer as a hilariously deep-thinking Batman.

The animators just strike the right balance between sharp-edged original imagery and cuddly cuteness, although Steve Jablonsky's score feels oddly generic. People have cleverly cartoonish elements in their appearance, augmented by idiosyncratic vocal work from a cast that includes Clement (as Aquaman), Jamil (Wonder Woman) and Diggs (Cyborg). And among the nutty critters are Schwartz and Middleditch's rambunctious fire and ice guinea pigs, who can't quite figure out how to team up.

Filmmakers Stern and Whittington shamelessly lay on sentimentality as they reveal a few back-stories, leading to the expected messaging about teamwork and self-sacrifice. And they also fill scenes with relentlessly diverse background characters, which feels both affirming and a bit pushy. But while a lack of originality leaves the film feeling underpowered, a steady stream of verbal and visual humour holds the interest. It's also an adorable reminder of how much joy and companionship a pet can bring. And how much chaos they can cause too.
| | | |
| --- | --- | --- |
| | themes, language, violence | 25.Jul.22 |
R E A D E R R E V I E W S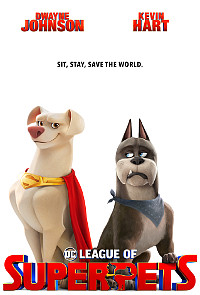 Still waiting for your comments ... don't be shy.