dir Zack Snyder
scr Chris Terrio, Joss Whedon
prd Jon Berg, Geoff Johns, Charles Roven, Deborah Snyder
with Ben Affleck, Henry Cavill, Gal Gadot, Ezra Miller, Jason Momoa, Ray Fisher, Amy Adams, Jeremy Irons, Diane Lane, Connie Nielsen, JK Simmons, Ciaran Hinds
release US/UK 17.Nov.17
17/US Warners 1h59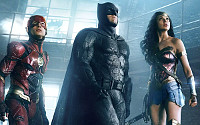 Super friends: Miller, Affleck and Gadot



---
See also:



R E V I E W B Y R I C H C L I N E

It's taken awhile, but DC seems to have finally found its groove, infusing this mega-sequel with the same lighter-toned, recognisably comic book-style atmosphere as Patty Jenkins' Wonder Woman. It's a lively action romp, with strong characters who are nicely played by the cast. The murky design work is still stuck in a rut, and the plot never quite springs to life, but it's still entertaining.

With Superman (Cavill) dead, or at least mostly so, the world is spiralling into grief, opening the door for the evil deity Steppenwolf (voiced by Hinds) to enact his nefarious plan to finally destroy humanity for good. Batman (Affleck) and his butler Alfred (Irons) wearily decide to do something about this, assembling a league of people with extra abilities, starting with the enigmatic Wonder Woman (Gadot). They then go after Flash (Miller), Aquaman (Momoa) and Cyborg (Fisher), but even combined they struggle to contain Steppenwolf. Is it too much to hope for Superman's return?

The plot never quite bothers to make sense of pretty much anything that happens. Steppenwolf's destructive quest is apparently to make earth more like his hellish post-apocalyptic homeworld (huh?). And the script really milks Superman's absence and painfully obvious return to the team. But along the way there are terrific character moments, including nice scenes with side figures like Lois Lane (Adams), Martha Kent (Lane) and Hippolyta (Nielsen).

Affleck has terrific presence as the shattered, sarcastic vigilante, who admits that his only superpower is that he's rich. Cavill is more settled into his role than before, and feels nicely natural in it. And Gadot continues to be sharp, tough and thoroughly engaging. Meanwhile, the film is stolen by the giddy, gung-ho Miller and the rebellious rock star Momoa, both of whom bring witty personality touches into the gang, superbly undercutting the earnestness. Even Fisher, in a less fleshed-out role, as it were, is likeable and human.

It's terrific to see these raw, earthy angles in the DC universe, which has always felt far too serious. So even if the look of the movie is loaded with cliches, the edgy character detail saves the day. And even though the film is still almost ludicrously obsessed with violence, there's enough going on between these people to keep us cheering them on. It also leaves us impatient for the Flash and Aquaman movies that are already in the works. And even some more from the Man of Steel.
| | | |
| --- | --- | --- |
| | themes, language, violence | 17.Nov.17 |