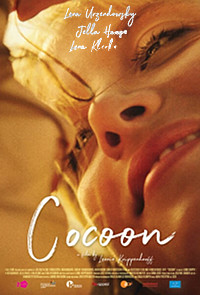 dir-scr Leonie Krippendorff
prd Jost Hering
with Lena Urzendowsky, Jella Haase, Lena Klenke, Elina Vildanova, Anja Schneider, Ogulcan Sert, Mohamed Issa, Hussein Eliraqui, Jakob Fischer, Philomema Kobele, Bill Becker, Judith Gailer
release Ger Feb.20 bff,
UK 11.Dec.20
20/Germany 1h35

---
BERLIN FILM FEST
---
Is it streaming?

---
With a blast of youthful energy, this German drama explores the lives of young women through the eyes of a girl who's just discovering she doesn't want to go with the flow. Filmmaker Leonie Krippendorff makes vivid use of this perspective, seeing first love as something both confusing and exhilarating. The emotions are right on the surface, which gives the film a strong resonance even if it sometimes feels simplistic.
---
In a trendy Berlin neighbourhood, 14-year-old Nora (Urzendowsky) is the quiet one who goes along with whatever crazy thing her big sister Jule (Klenke) and best friend Aylin (Vildanova) are up for. But she's growing tired of their empty-headed obsession with everything involving boys. Then in a moment of humiliation at school, Nora is rescued by Romy (Haase), and they begin a friendship, maybe more. Hanging out together gives Nora the confidence she's never had, although of course this also means that she's about to learn what it means to grow up.
---
Like her heavily metaphorical collection of caterpillars, Nora is beginning to emerge from her cocoon. She seems unbelievably naive, as if she's been living under a rock, learning nothing about love or sex from school, her big sister or pop culture in general. Then when she does find courage to ask about sexuality, a teacher blithely brushes off the question. So rather than another coming-of-age or coming-out movie, this is a story of the first flush of sexual awakening.

Urzendowsky gives this noisy film a thoughtful centre as the mousey Nora, fun-loving but oddly humourless. Still, she's curious about what life has to offer, and she finds wonder in the way she is changing. It's a nicely internalised performance that's mainly expressed in Nora's growing connection with the loose, likeable Haase's Romy. It's clear from the start where their relationship is going, but the actresses play it with terrific nuance. And both Klenke and Aylin are superb as older girls whose insecurities are only just being noticed by Nora.

The film is beautifully shot and edited, making more of the story than is actually there. And Krippendorff skilfully captures that adolescent combination of intensity and abandon over the course of this sweltering summer when there isn't much to do beyond partying with friends, lounging in the sunshine and skinny dipping. So when things start getting complicated for Nora, the shift in tone is striking. She's a very different person at the end of this film than she was at the beginning. And so are her caterpillars.
| | | |
| --- | --- | --- |
| | themes, language, sexuality | 8.Dec.20 |
---
Funny Boy
Review by Rich Cline |

MUST

SEE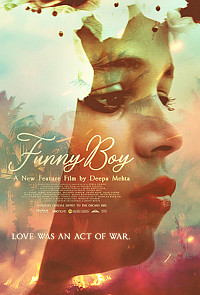 dir Deepa Mehta
scr Shyam Selvadurai, Deepa Mehta
prd David Hamilton, Hussain Amarshi
with Brandon Ingram, Ali Kazmi, Nimmi Harasgama, Arush Nand, Agam Darshi, Rehan Mudannayake, Shivantha Wijesinha, Seema Biswas, Hidaayath Hazeer, Vehara Abeygunawardane, Ruvin De Silva, Kanishka Ranabahu
release US/UK 10.Dec.20
20/Canada 1h49

---
Is it streaming?

---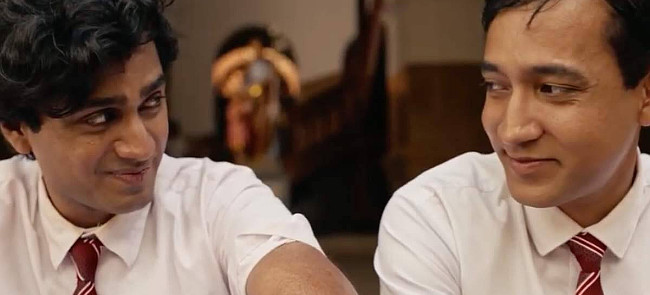 Gifted filmmaker Deepa Mehta recounts a moving story from Sri Lanka, beautifully photographed by Douglas Koch and based on an autobiographical novel by screenwriter Shyam Selvadurai. The narrative traces a boy's coming-of-age over a decade, bristling with pungent cultural issues that resonate far beyond the gorgeous setting. And the film's writing and direction artfully weave the themes into the story using music, colourful imagery and earthy humanity.
---
In 1974 Colombo, wealthy Tamil parents (Harasgama and Kazmi) come down on 8-year-old son Arjie (Nand) for posing as a bride in a kids' game and refusing to play sports with big brother Diggy (Wignaraja). His free-spirited Aunt Radha (Darshi) encourages him to pursue his passions, although she's forbidden from seeing her Sinhalese boyfriend (De Silva). Nine years later as social tensions rise, the family takes in radicalised young cousin Jegan (Wijesinha). And the teen Arjie (now Ingram) has his own layered encounter with prejudice when he falls for his male Sinhalese classmate Shehan (Mudannayake).
---
Throughout these years, Arjie's words echo from his childhood: "Why does everyone say I'm funny? Am I bad?" To which his father replies, "No, that's why I tell you to play cricket." Mehta skilfully lets the past and present flicker into each other, subtly revealing thoughts and feelings that stretch through the years. Interwoven with Arjie's internalised sexuality are a range of political themes that have a personal impact. And the film culminates as violent civil war erupts in 1983 and the family flees to Canada, where being gay is legal.

Nand has terrific energy as the enthusiastic young Arjie, a little kid with a big personality. And Ingram cleverly carries that into the teen Arjie, giving him a relaxed, likeable approach to life that makes darker situations remarkably involving. His youthful romance with Mudannayake's lively Shehan is strikingly well-played, with both charming chemistry and an underlying sense of what's at stake. And each supporting actor add his or her own impact by layering side stories with lots of attitude.

This is a beautiful exploration of how a plurality of opinions can both coexist and make a society stronger, while bigotry and fear weaken everybody they touch. Mehta expertly navigates the emotions, shifting from highs to lows to bring out telling angles on the characters, sensitively putting us in their shoes. So while the setting adds huge sociopolitical angles to the film, it remains a personal story and a timely exploration of how we navigate a world that's in constant ideological turmoil.
| | | |
| --- | --- | --- |
| | themes, language, violence | 8.Dec.20 |
---
The Weasels' Tale El Cuento de las Comadrejas
Review by Rich Cline |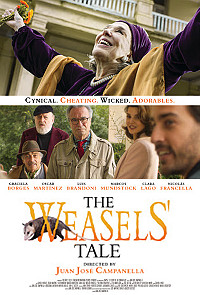 dir Juan Jose Campanella
scr Juan Jose Campanella, Darren Kloomok
prd Muriel Cabeza, Axel Kuschevatzky, Pierluigi Gazzolo, Gerardo Herrero, Mariela Besuievsky
with Graciela Borges, Oscar Martinez, Luis Brandoni, Marcos Mundstock, Clara Lago, Nicolas Francella, Luz Cipriota, Maru Zapata, Anwar Yoma, Manuel Martinez Sobrado, Ayelen Dotti, Nicolas Fiore
release Arg 16.May.19,
US 11.Dec.20
19/Argentina 2h09





---
Is it streaming?

---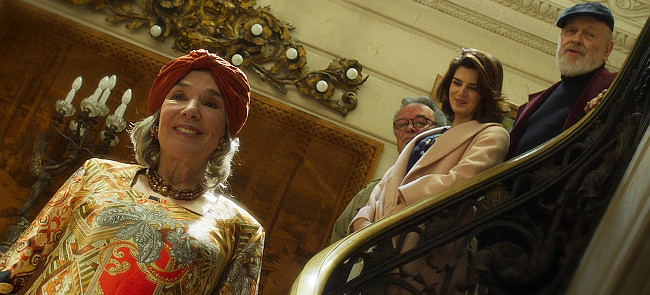 A remake of a 1976 Argentine comedy, this twisty film is infused with hilariously vicious humour. Snappy dialog spirals in unexpected directions as characters square off, setting up a clash between sharp youth and experienced veterans. The film is far too long, which makes the narrative repetitive and overcomplicated, but the way it uses and subverts iconic images of old movie glamour is very clever. And a lot of fun.
---
As fading diva Mara (Borges) hides out watching her old movies and reliving her award-season glory, she's sharing her mansion with husband and leading man Pedro (Brandoni) as well as her old screenwriter Martin (Mundstock) and director Norberto (Martinez), who spend their time hunting weasels on the grounds. Then young couple Barbara and Francisco (Lago and Francella) show up in need of a telephone. Recognising Mara, they say they're fans, but it quickly becomes clear that they have another agenda: they are predators tricking her into selling her house so they can redevelop the land.
---
Mara's three housemates delight in puncturing her prima-donna self-image, especially when she preens at Francisco's fan worship. And when Mara is happy to sell the house, they're soon begin targetting Barbara and Francisco as if they're just more weasels. What follows is a fiendish game of wits that challenges these interlopers while reigniting old feelings. Each person reveals true colours, old skeletons begin tumbling from closets, and things get increasingly nasty, leading to a wonderfully crazed conclusion.

The ace cast skilfully evokes both the blackly comical vibe and some surprisingly moving emotions. Borges is terrific as the larger-than-life Mara, whose yearnings and insecurities quietly reveal themselves. Martinez, Brandoni and Mundstock bring layers of sardonic comedy to the film as her faithful companions, big personalities who are continually trying to change the course of the narrative. Opposite them, Lago and Francella have their own razor-edged charm as the sneaky young villains of the piece.

There's a wide variety of themes gurgling through each character's journey through this tangled mess, and the overriding idea is that you should never underestimate your rival. Even more interesting is the exploration of how we begin to believe the myths we invent about ourselves. And some day there will have to be a reckoning, as we're forced to face who we really are. Or perhaps we can just create another myth that will allow us to carry on smiling.
| | | |
| --- | --- | --- |
| | themes, language, violence | 10.Dec.20 |
---

< < F O R E I G N > >
See also: SHADOWS FILM FESTIVAL

© 2020 by Rich Cline, Shadows on the Wall


HOME | REVIEWS | NEWS | FESTIVAL | AWARDS | Q&A | ABOUT | TALKBACK