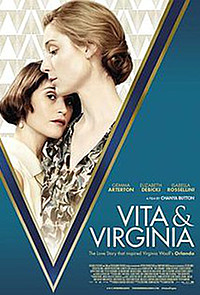 dir Chanya Button
scr Eileen Atkins, Chanya Button
prd Katie Holly, Evangelo Kioussis
with Gemma Arterton, Elizabeth Debicki, Rupert Penry-Jones, Peter Ferdinando, Emerald Fennell, Gethin Anthony, Adam Gillen, Isabella Rossellini, Thalia Heffernan, Rory Fleck Byrne, Karla Crome, Nathan Stewart-Jarrett
release UK 5.Jul.19
18/Ireland 1h50




---
TORONTO FILM FEST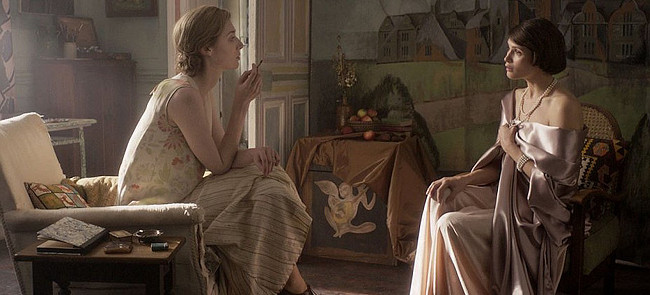 There's a refreshingly modern sensibility to this period drama, which allows the actors to create vivid characters. But the script is so wordy that it never lets the audience in. This leaves this as a film that's lovely to look at, and even admire, but it's impossible to crack the surface and genuinely experience the emotions. And the excellent actors struggle to make the dialog resonate with the famous characters they're playing.
---
In 1925 London, aristocratic novelist Vita Sackville-West (Arterton) invites herself to a dinner party so she can meet rising star author Virginia Woolf (Debicki). Vita's clear intention is to seduce Virginia, but this takes a bit of time. Vita has an open marriage to Harold (Penry-Jones), while Virginia's husband Leonard (Ferdinando) has refused to be jealous. Their relationship starts through letters, and then over the next few years becomes more physical, as both women also write their most acclaimed work: Vita is a globe-trotting bestseller, Virginia is a genius who stays close to home.
---
This professional rivalry is intriguingly reflected in cycles of deep affection, frustration and darkly intense love. But it's depicted on-screen through the verbose letters they write to each other (spoken to-camera), plus conversations that are even more opaque in their wordiness. No one quite speaks his or her mind, which is rather frustrating for the viewer because the characters are so fascinating, including other Bloomsbury Group members like Virginia's sister Vanessa Bell (Fennell), her husband Clive (Anthony) and their painter friend Duncan Grant (Gillen).

Because she has the more layered role, Debicki stands out with a finely nuanced performance that hints at Virginia's complex personality, questioning things about herself and others, curious and strikingly vulnerable. By contrast, Arterton's Vita is a larger-than-life woman who sweeps into each scene in another glamorous outfit, demanding attention. She begins to come across as a romantic predator, but Arterton keeps her likeable by revealing her underlying insecurities. The actors around them are oddly muted, only barely revealing buried feelings.

Director Button has a terrific eye and a witty sense of knowing observation, but seems to struggle against the over-written nature of this screenplay. With so much dense dialog, the narrative never quite generates momentum. At least it's gorgeously designed, and Isobel Waller-Bridge's score maintains the period while adding a cleverly unobtrusive present-day sensibility. In other words, there's a lot to admire about this film. It's just a shame it never quite connects with the audience.
| | | |
| --- | --- | --- |
| | themes, language, sexuality | 21 Mar.19 flare |
R E A D E R R E V I E W S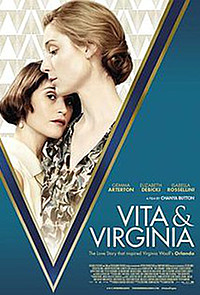 Still waiting for your comments ... don't be shy.