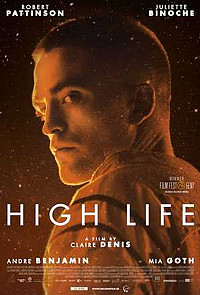 dir Claire Denis
scr Claire Denis, Jean-Pol Fargeau
prd Claudia Steffen, Christoph Friedel, Laurence Clerc, Olivier Thery Lapiney, Oliver Dungey, Klaudia Smieja
with Robert Pattinson, Juliette Binoche, Andre Benjamin, Mia Goth, Jessie Ross, Agata Buzek, Lars Eidinger, Claire Tran, Ewan Mitchell, Gloria Obianyo, Victor Banerjee, Scarlett Lindsey
release Fr 7.Nov.18,
US 12.Apr.19, UK 10.May.19
18/France BFI 1h53



---
TORONTO FILM FEST
Leave it to Claire Denis to approach science fiction by rewriting all the rules. This is an extraordinary film: beautiful to look at, evocative in its emotional resonance and darkly challenging in its imagery and themes. It seems to be about nothing at all, but there are big ideas rumbling through every scene, as a ship's crew grapples with the idea of whether they can trust each other. It's powerful, and never easy.
---
The shoebox-shaped space ship 7 is far from the solar system, and the only people on board now are Monte (Pattinson) and a noisy baby (Lindsey). He recalls the mission, losing contact with Earth as they headed out to research the energy source in black holes. The crew is made up of criminals given a second chance to do something with their lives, led by fellow inmate Dr Dibs (Binoche), who is also running experiments collecting the men's semen and trying to impregnate the women. The monk-like Monte refuses to participate. But she's very determined.
---
From the opening sequence, we know that the rest of the crew is dead. So the flashbacks create a kind of stalker-slasher movie. There are heavy echoes of Tarkovsky's Solaris in both the 1970s-style ship and the haunted interaction between the characters. And each of the crewmates has his or her own journey to take, usually involving a heavy dose of mental instability. Denis cleverly makes it irrelevant that we know their fates.

Pattinson gives an internalised performance as the troubled Monte, withdrawn and observant both when surrounded by others and when on his own with a crying infant. His interaction with each character bristles with texture, as if he's in a quiet tug-of-war with all of them. Binoche is also terrific as the mad scientist with a seriously messed up sex life. And in the crew, both Benjamin and Goth register strongly, as does newcomer Ross.

As a filmmaker, Denis has never been bothered with strict plotting; she's far more interested in characters and themes. So for a sometimes violent sci-fi thriller, this movie feels like it's, yes, drifting in space. Many sequences are inexplicable and bleak, including an eerie visit to sister ship 9 and two encounters with black holes. But the larger ideas and the emotional honesty can't help but worm its way under the skin. And the inventive effects work is just as unforgettable.
| | | |
| --- | --- | --- |
| | themes, language, violence, sexuality | 18.Apr.19 |
R E A D E R R E V I E W S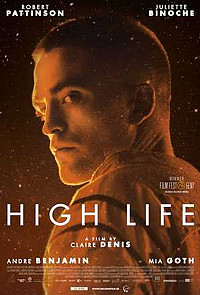 Still waiting for your comments ... don't be shy.