dir-scr Adewale Akinnuoye-Agbaje
prd Francois Ivernel, Andrew Levitas, Michael London, Janice Williams
with Damson Idris, Kate Beckinsale, Gugu Mbatha-Raw, John Dagleish, Adewale Akinnuoye-Agbaje, Genevieve Nnaji, Zephan Amissah, Jaime Winstone, Ann Mitchell, Lee Ross, Cosmo Jarvis, Theo Barklem-Biggs
release UK 11.Oct.19
18/UK 1h41




---
TORONTO FILM FEST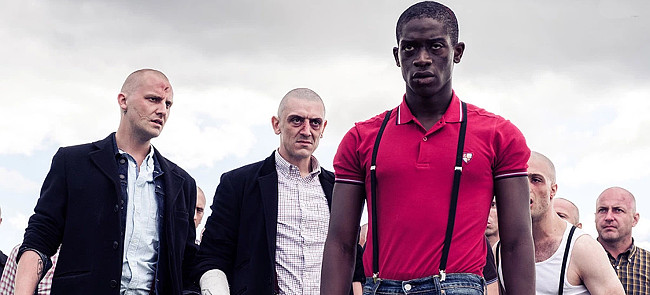 Bold and bruising, this is a fierce autobiographical drama by actor-filmmaker Adewale Akinnuoye-Agbaje, who also writes and performs songs on the soundtrack. The script centres on his shocking teen years in 1980s Britain, during which he grappled violently with his identity. This is strong stuff, but it kind of misses the better part of the story. Which also means that it never quite grabs the central themes.
---
As an infant in 1967, a Nigerian couple (Akinnuoye-Agbaje and Nnaji) "farms" their London-born infant son Eni to working class Ingrid (Beckinsale) while they return to Africa. Over the next decade, Ingrid also takes in two of their daughters, plus numerous other children she can barely look after. Eni grows into a thoughtful boy (Amissah) then a confused teen (Idris) with no sense of belonging. He rejects help from a teacher (Mbatha-Raw), instead turning to a racist skinhead gang led by Levi (Dalgleish), who's impressed with his rage and adopts him as a pet.
---
Rather than an exploration of farming, during which tens of thousands of Nigerian children were left in ill-prepared British homes, the film focusses on Eni's longing for a tribe. This makes the film drivingly personal, even as the vile actions of the bickering white supremacists begin to feel repetitive and numbing. Akinnuoye-Agbaje shoots everything at peak energy, giving the film a jittery tone that's effective in unnerving the audience. But some nuance might have given it more power.

Characters aren't particularly subtle. Idris is terrific as a smart, artistic 16-year-old who can't see who he is in a society that both ignores and abuses him. Lean and ready to pounce, he has electric energy on-screen, and ricochets wonderfully off the larger-than-life figures around him, including Beckinsale's effective turn as a tough-as-nails housewife with an absent husband (Ross). Dalgleish stirs intriguing layers into the evil snake-handling Levi, while Mbatha-Raw adds texture as the relentlessly heroic teacher.

Watching this film is like being slapped in the face, which is surely Akinnuoye-Agbaje's intention. What he went through is appalling from any angle. But the film reduces the resolution to Eni's journey to a montage, and it really should have been the entire final act. In exploring how he rebuilt himself into a self-assured young man, the movie might have dug a little deeper into his past, exploring the emotional devastation that goes far beyond the colour of his skin. This is a big story, and it's well told, but there's a lot more to it.
| | | |
| --- | --- | --- |
| | themes, language, violence | 27.Aug.19 |
R E A D E R R E V I E W S

Still waiting for your comments ... don't be shy.