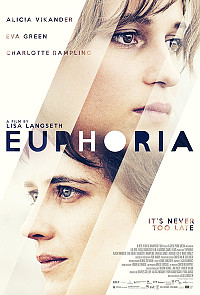 dir-scr Lisa Langseth
prd Charles Collier, Alicia Vikander, Patrik Andersson, Frida Bargo
with Alicia Vikander, Eva Green, Charlotte Rampling, Charles Dance, Adrian Lester, Mark Stanley, August Zirner, Harald Siebler, Emily Woods, Daron Yates, Chantal Dubs, Jakob Togel
release US 28.Jun.19
17/Sweden 1h44




---
TORONTO FILM FEST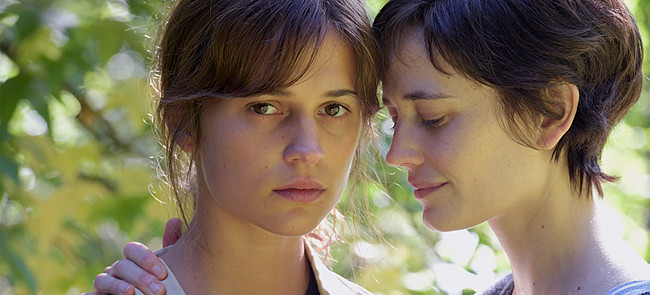 A darkly intense exploration of connection and mortality, this introspective drama is particularly well-acted by Alicia Vikander and Eva Green. It's also written and directed with style and insight by Swedish filmmaker Lisa Langseth, her third collaboration with Vikander. It's a slow-burn drama that lives in the subtext, which is quietly expressed in the actors' eyes. So watching it requires patience.
---
Sisters Ines and Emilie (Vikander and Green) travel from New York to Europe, to a destination Emilie is keeping secret. In the countryside, they're greeted by Marina (Rampling), who takes them through the woods to an isolated resort where Aron (Lester) strives to give guests everything they want before their "leaving", after a week of contemplation. Ines is understandably thrown by this, especially because it's how she learns that Emilie is terminally ill. Reluctantly sticking around but refusing to play by the rules, Ines connects with Daren (Dance), another patient.
---
From here, the script tentatively delves into these siblings' family history and their troubled relationship. These are things Ines has never wanted to speak about, especially around an overattentive outsider like Marina. So Daren offers her a less-threatening way into her thoughts and feelings. But it's the conversations between the sisters that hold the interest, and they're funny and sexy, angry and emotive, even if many don't actually go anywhere. Thankfully, the gloomy premise is livened up by things like one guest's rockin' farewell party and Emilie's hook-up with paralysed footballer (Stanley).

The artful approach lends itself to complex, layered performances from the entire cast. Each character has prickly edges to him or her, keeping the audience on their toes. Vikander and Green are excellent as very different young women digging into their shared past. Of course, Emilie is much more at ease with this place, because she chose to be there, and her relaxed attitude is reflected in other guests who are very nicely played by Dance and Stanley. By contrast, Rampling brings an eerily serene sense of mystery to her role.

Langseth's meandering pace and internalised narrative might leave some audience members frustrated, especially as everything seems so elusive. Scenes are beautifully staged, shot in visually textured ways that add both intrigue and engagement. But the sense of waiting is perhaps too vividly captured, as this resort becomes like a purgatory where guests just sit around for days before their euphemistic "leaving". And even if the big catharsis feels somewhat obvious, Vikander and Green keep pulling us back in.
| | | |
| --- | --- | --- |
| | themes, language, violence, sexuality | 24.Jun.19 |
R E A D E R R E V I E W S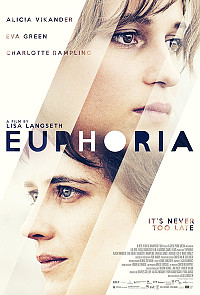 Margaret E Sefton, Central Florida:

As a cancer survivor, I loved it. I would say if someone wants to understand what things are like from a cancer survivor's perspective, this is fairly close to realistic, at least for some. For someone from outside looking in, some of the film might have felt like this was "the waiting room" to an inevitable end, but the honor and gentleness portrayed by the Charlotte Rampling character, for example, is so much more preferable to that action-packed American "fight" mentality to the cancer "battle." There was a maturity, depth, and emotional complexity that more deeply portrays what it's like to accept something hard and after a long journey, when returns are diminishing. In films in this category, this is often sadly missing. The sisters grew and changed together, and Rampling was the portrayal of wisdom and comfort. Bravo to the director, writers, actors, and all involved. (Mar.21)