dir Anton Corbijn
with Dave Gahan, Martin Gore, Andy Fletcher, Indra, Daniel, Liz, Dicken, Christian, Carin, Milah, Korben
release US/UK 22.Nov.19
19/UK 1h35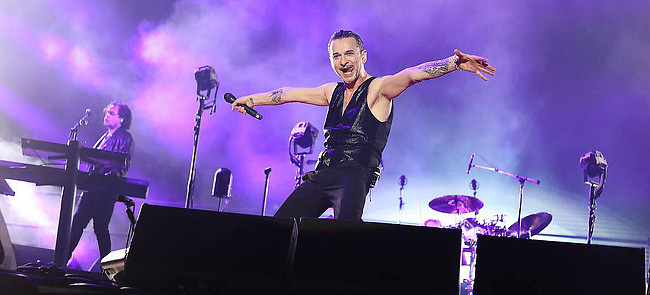 An inventive mix between a concert film and a fan documentary, this film sharply captures the connection between a band and its most loyal followers. Intriguingly in this case, they are second- and even third-generation, too young to have followed Depeche Mode at its peak in the early 1980s. Yes, the band is still going strong, but it's their timeless hits that get the audience pumping.
---
Director Corbijn, who has worked with Depeche Mode since 1986, follows six superfans who travel to the Waldbuhne (Forest Stage) in Berlin for the final concert of the 2018 Spirit tour. The brightly articulate tour guide Indra from Mongolia says the band helped teach her English. From Brazil, Daniel lives in Berlin and was encouraged by the songs to live honestly as a gay man. In Los Angeles, single mother Liz used their music in her battle against cancer. In Bogota, Dicken remains bonded with his children Korben and Milah, who now live with their mother in Florida, as they perform as DMK, a Depeche Mode cover band. In Bucharest, Christian discovered the band through underground cassette recordings during Communist oppression. And in southern France, Carin lost all her memories at age 25, except for her connection with Depeche Mode's iconic songs.
---
The film is beautifully shot to impressionistically capture the lives of these six engaging people, both at home and as exuberant fans in the stands singing along as Dave, Martin and Andy perform on-stage with Corbijn's vivid video art on a massive screen behind them. The film is very cleverly edited, allowing fan renditions of massive hits like I Just Can't Get Enough, Everything Counts and Personal Jesus to interweave with the live concert.

The brief running time means that not all of the big hits are included, but there are terrific segments centred around more personal songs like Enjoy the Silence (Christian re-enacted Corbijn's music video in Romania) and the more recent Precious. In addition, the film quietly captures the social and political themes running through Depeche Mode's music in the emotionally powerful stories of these six very different people, each of whom discovered the music in a distinct way.

Three of them are shown to have extended their love of the band's songs to their children. And there's also a gorgeous segment in which Depeche Mode pays homage to their mentor, with a rendition of David Bowie's Heroes. This layered mix makes the film much more engaging than a more conventional concert doc. And it's a rare movie that explores the way an artist impacts the audience, and vice versa.
| | | |
| --- | --- | --- |
| | themes, language | 30.Oct.19 |