dir Gurinder Chadha
scr Paul Mayeda Berges, Gurinder Chadha, Sarfraz Manzoor
prd Jane Barclay, Gurinder Chadha, Jamal Daniel
with Viveik Kalra, Hayley Atwell, Kulvinder Ghir, Meera Ganatra, Aaron Phagura, Dean-Charles Chapman, Nell Williams, Nikita Mehta, Rob Brydon, Lorraine Ashbourne, Frankie Fox, Sally Phillips
release UK 9.Aug.19,
US 14.Aug.19
19/UK 1h57



---
SUNDANCE FILM FEST
There's plenty to love about this warm-hearted British period drama, from its exploration of Thatcher-era unrest to its deployment of Bruce Springsteen's back catalog. It's also based on a true story, although the plot has clearly been wrenched into the usual feel-good formula, with a few events that ring oddly false. But director Gurinder Chadha sharply captures the restlessness of youth in a complex ethnic setting.
---
Amid crushing government austerity, people are becoming more violently bigoted. And 16-year-old Javed (Kalra) worries that he'll never get out of Luton, which is close enough to London that you can almost see it. His life is also taking a different path than his best pal Matt (Chapman), especially after Roops (Phagura) introduces him to The Boss' music, which Javed feels perfectly expresses his feelings. And as his English teacher (Atwell) spots promise in his writing, Javed is worried that his parents (Ghir and Ganatra) will never allow him to pursue that as a career.
---
Chadha keeps the film bouncing amiably, as reflected in Kalra's enormous smile. So darker emotional narrative bombs feel jarring, especially as they don't quite resonate. Javed's big falling out with Matt is over-egged to provide some tension in the plot. And his ongoing struggle with his father also has a somewhat massaged quality to it, carefully fitting into the story structure rather than reflecting a real-life coming of age. But the ideas undergirding the events are strong enough to overcome these contrivances.

Kalra has terrific energetic presence, often in closeup as he reacts to Springsteen's music and people around him. He bounces particularly well off of Ghir, solid as his narrow-minded father. And there are some nice moments with Chapman's hilariously new-wave Matt, Phagura's good-time sidekick, Williams as Javed's sparky girlfriend and Mehta as his lively sister. In an expanded cameo, Brydon gets his own strong comical moments, even joining in a break-out musical number.

Yes, there are several full-on fantasy renditions of Springsteen's songs. Chadha fills these with scrappy heart, using choreography that feels made up in the moment. Blending Springsteen into a British feel-good movie may seem odd, but the film never becomes a jukebox musical. The biggest tunes (including the title number) only appear in snippets, and there are other musical moments as well, including a superbly shot daytime Asian rave. More important is this cultural side of the story, and Chadha makes sure it comes through loud and clear.
| | | |
| --- | --- | --- |
| | themes, language, violence | 9.Jul.19 |
R E A D E R R E V I E W S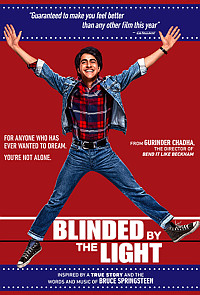 Still waiting for your comments ... don't be shy.