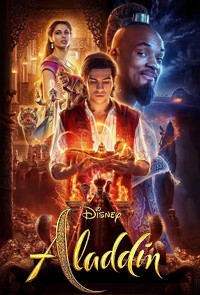 dir Guy Ritchie
scr John August, Guy Ritchie
prd Jonathan Eirich, Dan Lin
with Mena Massoud, Naomi Scott, Will Smith, Marwan Kenzari, Nasim Pedrad, Alan Tudyk, Navid Negahban, Numan Acar, Billy Magnussen, Amir Boutrous, Maya Saroya, Frank Welker
release US/UK 24.May.19
19/US Disney 2h08




---
See also: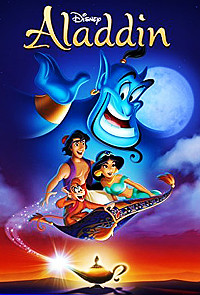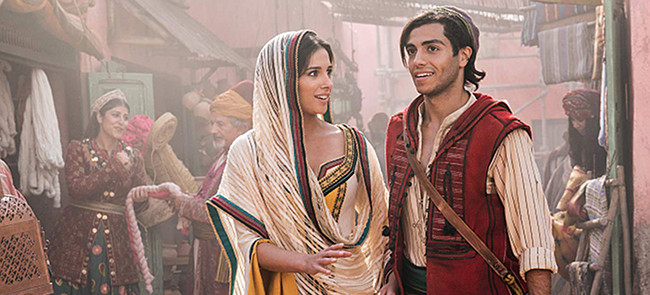 Disney's gives its classic 1992 animated musical the live-action remake treatment, keeping the songs intact while adding more silliness and cleverly tilting the story to give the central female character a lot more complexity. Since he's never made a movie as deliberately goofy as this, it's almost impossible to spot director-cowriter Guy Ritchie's hand, aside from the scrappy opening sequence involving a savvy street hustler.
---
Quick-witted orphan Aladdin (Massoud) has survived in his market town Agrabah with the help of cheeky monkey sidekick Abu. One day he gets into some trouble with Princess Jasmine (Scott) who is disguised as a handmaid. When Aladdin sneaks into the palace to see her, he's caught by sinister vizier Jafar (Kenzari). Scheming to take over the kingdom from Jasmine's father (Negahban), Jafar needs Aladdin's innate goodness to get into the Cave of Wonders, but it's Aladdin who lets the Genie (Smith) out of the lamp. Now he has three wishes to win Jasmine's hand.
---
Once again, the central theme is about being true to who you are. So in contrast to the smiley Aladdin and Jasmine, Jafar's nastiness is now seriously grisly, as he thoughtlessly murders anyone who blocks his road to power. Meanwhile, Jasmine is a young woman who knows she has what it takes to be sultan, defying a thousand-year tradition that women are seen but not heard. So when she's presented a dimwitted Scandinavian prince (Magnussen) to marry, she and her handmaid Dalia (Pedrad) have a good laugh about it.

The relationships bring the film to life, especially the engaging Massoud and Scott, who find offbeat textures in their interaction. Meanwhile, Massoud has strong great chemistry with Smith, while Scott and Pedrad get several amusing moments. Filling impossible shoes, Smith makes the Genie his own, bringing echoes of the Fresh Prince and terrific comic timing to his random riffs. And Kenzari is riveting as a suave, eerily softspoken villain with a squawking parrot sidekick (voiced by Tudyk).

Of course, this requires a lot of production design, and the first-rate sets and costumes burst with colour and personality. Digital effects are hit and miss, sometimes eye-catchingly spectacular but often stubbornly obvious, and sometimes downright clunky. Disney's main philosophy is generally "more is more", while Ritchie's grittier, leaner approach might have suited this story better, lending it more gravitas while making the humour darker. Instead this is a big-hearted, laugh-out-loud romp with swooning romance and exhilarating action sequences. Kids will love it; adults will pretend they don't.
| | | |
| --- | --- | --- |
| | themes, violence | 16.May.19 |
R E A D E R R E V I E W S


Still waiting for your comments ... don't be shy.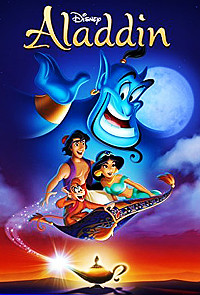 dir John Musker, Ron Clements
scr Ron Clements, John Musker, Ted Elliott, Terry Rossio
voices Scott Weinger, Robin Williams, Linda Larkin, Jonathan Freeman, Gilbert Gottfried, Frank Welker, Douglas Seale, Charlie Adler
release US 25.Nov.92,
UK 17.Nov.93
92/US Disney 1h30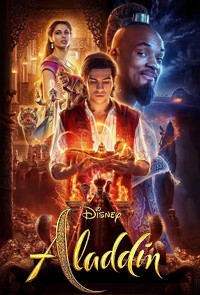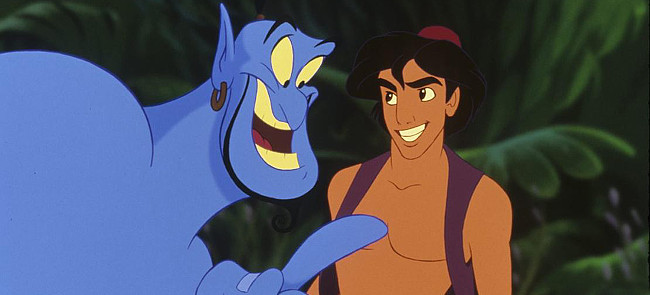 Disney began reinventing feature-length animation with The Little Mermaid (1989), then Beauty and the Beast (1991). Both have solid stories, gorgeous animation, wonderful song scores and memorable characters. Both were entertaining to children and adults.

Well, here's Disney's next big step ... a feature-length cartoon that appeals to adults even more than kids. Aladdin displays animation unlike anything before it, combined with some of the richest Characters in memory - most notably Robin Williams' genie. It's an action-packed story that manages to pile on laughs, thrills and even a touching romance as Aladdin (voiced by Weinger), a young street urchin, tries to woo a beautiful princess (Larkin) with the help of the genie and a magic carpet.

Of course there's an entertaining and vicious villain, Jafar (Freeman), who complicates the story in his search for power with his parrot sidekick Iago (Gottfried in prime form). The songs by Alan Menken, Tim Rice and the late Howard Ashman are immediately hummable, and destined for Oscars galore.

But Williams steals the show with his verbal prowess - jumping from impersonation to aside to subtle cultural references to utter lunacy - matched at every step by the team of gifted animators. It will make your head spin. You've never seen anything like it .. and you'll want to see it again. And again.
| | | |
| --- | --- | --- |
| | themes, violence | Dec.92 |