dir Jason Reitman
scr Diablo Cody
prd Charlize Theron, Diablo Cody, Jason Reitman, AJ Dix, Helen Estabrook, Aaron L Gilbert, Beth Kono, Mason Novick
with Charlize Theron, Mackenzie Davis, Ron Livingston, Mark Duplass, Lia Frankland, Asher Miles Fallica, Elaine Tan, Gameela Wright, Joshua Pak, Maddie Dixon-Poirier, Stormy Ent, Colleen Wheeler
release US/UK 4.May.18
18/US Focus 1h36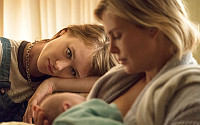 Practically perfect: Davis and Theron


R E V I E W B Y R I C H C L I N E
Charlize Theron reteams with Young Adult writer Diablo Cody and director Jason Reitman for this loose dramatic exploration of motherhood issues, which in the end turns out to be about something different altogether. The script is remarkably understated, depicting feelings rather than explaining the plot or themes. So it can be a bit frustrating to pin it down. But what it says is bold and vital.

As Marlo (Theron) prepares to give birth to her third child, she's nearing the end of her rope. Her husband Drew (Livingston) is busy with work, 8-year-old Sarah (Frankland) is struggling with self-confidence and teachers think 5-year-old Jonah (Fallica) is too quirky for his school. Then Marlo's brother Craig (Duplass) offers to hire a night nanny for her and, when the eerily perfect Tully (Davis) turns up after the baby is born, Marlo's life improves dramatically. Not only can she now get some sleep, but she also has help with the housework and her family.

This is the kind of film that will quickly divide opinion, especially as the final revelation skirts around the core issue so carefully that viewers will have very different ideas about what the movie is actually saying. On the surface, this is a cross between Mary Poppins and The Hand That Rocks the Cradle, so from the very start there's a sense that there's something wrong about Tully. Much more interesting is the story about what's going on within Marlo.

Theron delivers a remarkably offhanded turn as a worn-out woman struggling to cope when things get exponentially more difficult than her already stressed-out routine. Her wry, sardonic humour may sometimes feel over-written, but each punchline hits a nerve. Davis is deliberately more problematic as the super-perky Tully, always ready with an astute zinger or just the right kind of warm encouragement. Everyone else in the film kind of fades into the margins, although all are excellent.

Reitman's direction and Cody's writing both continually try to wrongfoot the audience, leading us into a story that isn't actually the central narrative. It's involving and intriguingly offbeat, so it's rather jarring when the focus shifts right at the end. In some ways, playing their cards earlier would have made this film far more important, as it's tackling a big topic with insight and an engaging sense of earthy humour. At least it will get people talking, which is a good thing.
| | | |
| --- | --- | --- |
| | themes, language, violence | 25.Apr.18 |