dir Jason Reitman
scr Diablo Cody
prd Diablo Cody, Lianne Halfon, Mason Novick, Jason Reitman, Russell Smith, Charlize Theron
with Charlize Theron, Patton Oswalt, Patrick Wilson, Elizabeth Reaser, Collette Wolfe, Jill Eikenberry, Richard Bekins, Mary Beth Hurt, Louisa Krause, John Forest, Rightor Doyle, Hettienne Park
release US 16.Dec.11, UK 10.Feb.12
11/US Paramount 1h34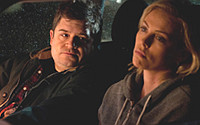 Pesky kids: Oswalt and theron


R E V I E W B Y R I C H C L I N E

There isn't much on the surface of this prickly comedy, but the sharp script slices through American culture so astutely that we continually see ourselves in characters who are clearly losers. And the film gives Theron another terrific role to disappear into.

Mavis (Theron) left her small-town home for Minneapolis to become an author of young adult fiction. But as her book series comes to an end, she hears that her high school flame Buddy (Wilson) has just had a baby with his wife Beth (Reaser). So Mavis heads home to try to win him back. Of course, nothing goes as planned, and she ends up instead commiserating with another former classmate, Matt (Oswalt), who also can't seem to move on from his teen years.

Mavis is a marvellous bundle of delusions, self-loathing and oblivious ambition, but she's written by Cody, directed by Reitman and played by Theron with unexpected sympathy. For every awkward conversation and sociopathic moment, she seems to know that she's a mess. So when she meets the equally screwed-up Matt, she experiences a mixture of relief and horror: she's not the only person looking for peace in her past. Although it takes her a bit longer to grasp the depth of her self-involvement.

Reitman and Cody pack the film with terrific details and throwaway humour that makes it hilariously, uncomfortably engaging as we realise that nobody has quite grown up. And maybe that growing up is overrated anyway. One-scene characters dot the film, adding blasts of edgy comedy at every turn (highlights include Wolfe as Matt's sister, and Krause as Mavis' hotel receptionist). And the script is a nice step forward for Cody, as each character speaks with his or her own voice, rather than Juno's unanimous snappiness.

These recognisable, darkly amusing people continually surprise us while giving Theron and Oswalt space to develop characters who are vastly complex. Despite their pathetic lives, we understand them, not so much rooting for them to get back on track as hoping that they will learn to live with who they are and stop dragging everyone else down with them. And in this sense, the lightly offhanded ending is simply perfect.
| | | |
| --- | --- | --- |
| | themes, language | 23.Nov.11 |