dir-scr Joel Edgerton
prd Joel Edgerton, Steve Golin, Kerry Kohansky-Roberts
with Lucas Hedges, Nicole Kidman, Russell Crowe, Joel Edgerton, Flea, Joe Alwyn, Xavier Dolan, Theodore Pellerin, David Joseph Craig, Britton Sear, Troye Sivan, Jesse LaTourette
release US 2.Nov.18, UK 8.Feb.19
18/US Focus 1h55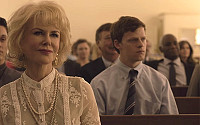 Praying for his soul: Kidman and Hedges



---
TORONTO FILM FEST
R E V I E W B Y R I C H C L I N E
Based on a true story, this Arkansas-set drama is perhaps a little too pointed for its own good, punching its themes loudly. But it's also sharply well directed and acted, drawing out complex emotions from the characters that add to the film's provocative kick. All of this may make it obvious that actor-filmmaker Joel Edgerton has something important to say here, but he says it beautifully.

Returning from university, 18-year-old Jared (Hedges) checks himself into gay conversion therapy. Led by Victor (Edgerton), the programme is designed to help him rediscover his masculinity, but it becomes clear from the start that the organisers have no professional qualifications. Bullying and role playing cause Jared to sift through back through the past year or so, as he and his parents (Nicole Kidman and Russell Crowe) discover and then grapple with Jared's sexuality in the only way they know how: by invoking their devout religious beliefs.

The flashbacks include two men Jared has significant encounters with during his first year at university: Henry (Alwyn) becomes a running partner while artist Xavier (Pellerin) introduces Jared to the idea that men can be affectionate with each other. The script carefully notes that Jared's own religious beliefs are driving his desire to change, so the men he meets in therapy also have an impact, including the troubled Jon (Dolan), thoughtful Cameron (Sear) and homophobic drill sergeant Brandon (Flea).

The actors take all of this very seriously, which sometimes makes the darker scenes feel a bit melodramatic. But each performance is textured, creating people who are refreshingly difficult to pigeonhole. Kidman is terrific as a strong but silent Southern wife who can see something isn't quite right here, while Crowe is the repressed car salesman and part-time preacher whose straightforward faith is going to be tested. At the centre, Hedges delivers a sensitive turn as a young man genuinely trying to make sense of himself in the world.

While the film never flinches on the religious aspects of the story, the gay elements are cagier. But this also adds to the authenticity, as Jared either hides his desires or rejects them outright, longing for God to heal him. The script never quite tackles the thorny issue of religion and sexuality, but as a story of the personal journey of this mother, father and son, the film is powerfully involving and often very moving. It's also the kind of movie that can offer hope and understanding where it's needed most.
| | | |
| --- | --- | --- |
| | themes, language, violence | 30.Nov.18 |