dir Kathryn Bigelow
scr Mark Boal
prd Kathryn Bigelow, Mark Boal, Matthew Budman, Megan Ellison, Colin Wilson
with John Boyega, Will Poulter, Algee Smith, Anthony Mackie, Jacob Latimore, Jason Mitchell, Jack Reynor, Ben O'Toole, Hannah Murray, Kaitlyn Dever, Nathan Davis Jr, John Krasinski
release US 4.Aug.17, UK 25.Aug.17
17/US Annapurna 2h23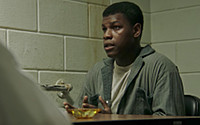 A handy suspect: Boyega


R E V I E W B Y R I C H C L I N E

Kathryn Bigelow and Mark Boal reteam to replay a momentous historical event with forensic precision and a visceral kick. Eerily resonant despite the fact that it took place half a century ago, the story of the Detroit riots has never been told with this much clarity. And working with ace cinematographer Barry Ackroyd, Bigelow creates an insistent film that feels like it was shot as the events unfolded.

In July 1967, decades of injustice boiled over as white police officers persecuted frustrated Detroit's black residents. On the fateful night, aspiring singer Larry (Smith) and his pal Fred (Latimore) take refuge from the violence in the Algiers Motel, where they meet two white girls (Murray and Dever) and several lively, engaging black men (including Mackie, Mitchell and Davis). When shots are heard, security officer Melvin (Boyega) comes to investigate, running into racist local cop Krauss (Poulter) and his sidekicks (Reynor and O'Toole), who take a heavy-handed approach that leads to psychological torture and murder.

Piecing together the events from first-hand accounts, Boal's script avoids overt plotting to unfold in a startlingly organic way. The film may lack the usual dramatic build-up and pay-off, but the gnawing intensity is relentless right from the animated prologue, which outlines how black workers moved to find jobs after the Civil War and were abandoned to inner-cities as white residents fled to the suburbs, creating what was essentially a police state. It's no wonder that they pushed back at the white officials' unnecessarily harsh treatment.

The cast is earthy and natural, letting drama or emotion emerge without overstating it. Poulter has the flashiest role in this sense, rising to the challenge with a chilling commitment that's properly terrifying. Reynor and O'Toole are also excellent, revealing complex textures of both viciousness and doubt. But the film's heart is Boyega, whose character is an observer caught up in the chaos, responding in layered, unpredictable ways. And Smith offers a deeply moving turn as a talented young man whose life is derailed.

Bigelow directs with a staggering urgency that makes this night both harrowing and unthinkably horrific. The evil on display is scarily believable, echoing much more recent events without being obvious about it. This means that the most shocking element of the movie is that so little has changed in 50 years: racism is tolerated as an everyday experience in America. And without true equality, more violence like this is not just possible, it's likely.
| | | |
| --- | --- | --- |
| | themes, language, violence | 25.Jul.17 |