dir Armando Iannucci
scr Armando Iannucci, David Schneider, Ian Martin
prd Nicolas Duval Adassovsky, Kevin Loader, Laurent Zeitoun, Yann Zenou
with Steve Buscemi, Jeffrey Tambor, Simon Russell Beale, Michael Palin, Jason Isaacs, Rupert Friend, Andrea Riseborough, Paul Whitehouse, Olga Kurylenko, Paddy Considine, Dermot Crowley, Adrian McLoughlin
release UK 20.Oct.17, US 9.Mar.18
17/UK eOne 1h46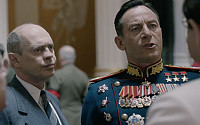 Jostling for control: Buscemi and Isaacs



---
TORONTO FILM FEST
R E V I E W B Y R I C H C L I N E

Armando Iannucci cleverly transposes his style of sharp political comedy to 1953 Moscow, as Communist Party leaders vie for control after Stalin's sudden demise. It's a riot of witty one-liners, sight gags and hilarious observations, all accompanied with the kind of snappy put-downs we love from Veep and The Thick of It (or its movie In the Loop). Due to its setting, this film is rather a lot darker and more violent, but it's still riotously funny and sharply pointed.

After using torture and murder to keep the population in fear, Stalin's would-be successors have to decide how they're going to move forward. While dim deputy Malenkov (Tambor) becomes the leader, Khrushchev (Buscemi) is determined to be the progressive one. His main rival is Beria (Beale), a tough guy with an eye for young girls. The gung-ho military general Zhukov (Isaacs) suggests that the committee get together to remove Beria. Meanwhile, Stalin's children (Friend and Riseborough) are trying to exert their own power, unaware that they're doomed.

While there are plenty of present-day parallels as these men jostle in the back hallways for control, the setting is so forceful that overwhelms the satire. Instead, what we have are a large number of genuinely amusing people speaking superbly witty dialog, and it doesn't really matter how the events play out because history has already decided. So there's virtually no tension, which means that the plot kind of runs out of steam in the final act.

But the actors are all so good that we never get tired of watching them crash into each other physically and verbally. Isaacs has the most colourful role, as the blustering military man who doesn't care what anyone else has to say. And the other scene-stealer is Friend as the drunken, self-important brat, while Riseborough has her moments as his hysterical sister. At the centre of the tussle, Buscemi, Tambor and Beale are funny and edgy.

Iannucci has such a deft touch as writer and director that the comedy feels effortless, even with a bunch of American and British actors speaking their own English in 1950s Russia. But the events of that time are so momentous that the film only occasionally finds resonance beyond its humorous slant on this particular slice of history. It's entertaining and so skilfully made that it's worth a look, but don't expect to have your political opinions challenged this time.
| | | |
| --- | --- | --- |
| | themes, language, violence | 13.Sep.17 |