dir Vincent Perez
scr Achim von Borries, Vincent Perez
prd James Schamus, Stefan Arndt, Christian Grass, Marco Pacchioni, Uwe Schott, Paul Trijbits
with Emma Thompson, Brendan Gleeson, Daniel Bruhl, Mikael Persbrandt, Joachim Bissmeier, Katharina Schuttler, Hildegard Schroedter, Lars Rudolph, Godehard Giese, Joshua Grothe, Uwe Preuss, Monique Chaumette
release Ger 17.Nov.16, US 13.Jan.17, UK 30.Jun.17
16/Germany 1h43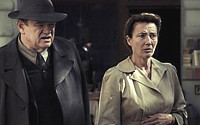 Quiet activism: Gleeson and Thompson



---
BERLIN FILM FEST
R E V I E W B Y R I C H C L I N E

A fictionalised version of a true story, this intriguing drama offers a glimpse of life in Nazi-ruled Germany. Oddly, it doesn't feel particularly realistic, since everyone speaks in accented English in over-dilapidated sets, and there's little sign that a war is raging. But the film is anchored by strong performances from the three leads.

It's 1940 in Berlin, and Anna and Otto (Thompson and Gleeson) have just had word that their only son was killed at the front. Having refused to join the Nazi Party, they're seen with suspicion. And Otto expresses his unhappiness by writing a series of postcards decrying the lies and tyranny of Hitler's regime, leaving them around the city for people to pass on. Of course, this raises the attention of local investigator Escherich (Bruhl), who is pushed by his ruthless Nazi boss (Persbrandt) to find whoever is spreading this traitorous propaganda.

Director-cowriter Perez maintains a cat-and-mouse premise as Escherich follows various clues to find whoever is spreading these cards around the city. But he never generates much suspense. Instead, the focus is on the shattered Anna and Otto, grappling with their grief as they lash out at a political system they see as corrupt and culpable. This provides resonance for the viewer, even with the slow pace and lack of urgency.

Thompson and Gleeson deliver beautifully stripped-down performances as quiet, unremarkable people who create a major fuss by taking such simple action. Both actors convey their characters through silences as Anna and Otto try to hide their feelings from each other. This adds an emotional kick to several moments. Meanwhile, Bruhl's character is on his own complex journey, a man who sells his soul bit by bit, then begins to realise what he's done to himself and the world around him.

These weighty themes add enough depth to hold the attention, even with the relentlessly slow pace. It certainly doesn't help that sets, characters and streets are so deliberately drab, sucking the life right off the screen. Perez has an eye for character detail, and he conveys the narrative with a sense of the momentousness of the time and place. But he struggles to bring us in, to make us feel the crushing pressures or the sense of life in the balance. In other words, it's a film to admire, but it never sweeps us up in its drama.
| | | |
| --- | --- | --- |
| | themes, language, violence | 12.Jun.17 |