Ash Wednesday
dir-scr Marieka Walsh
prd Donna Chang
narr Colin Friels
---

Reunion
dir Simon Stone
scr Andrew Upton
prd Jo Dyer
with Cate Blanchett, Richard Roxburgh, Robyn Nevin
---
Commission
dir-scr David Wenham
prd Maggie Miles
with Hugo Weaving, Josh McConville
---
The Turning
dir-scr Claire McCarthy
prd Maggie Miles, Sue Italiano
with Rose Byrne, Miranda Otto, Matt Nable, Myles Pollard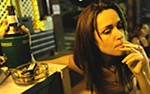 ---
Aquifer
dir Robert Connolly
scr Justin Monjo
prd Maggie Miles, Tenille Kennedy
with Callan Mulvey, Alex Bryans, Gwy McKenna
---
Cockleshell
dir Tony Ayres
scr Marcel Dorney
prd Julie Eckersley
with Toby Wallace, Brenna Harding, Elise McCredie, Peta Brady, Paul Ireland
---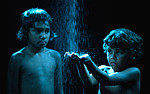 Sand
dir Stephen Page
scr Justin Monjo
prd John Harvey
with Jakory Blanco, Jarli-Russell Blanco, Waangenga Blanco, Kirk Page
---
Long, Clear View
dir-scr Mia Wasikowska
prd Kath Shelper
with Matthew Shanley, James Saunders, Di Adams, Marika Teledzinska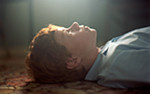 ---
Boner McPharlin's Moll
dir-scr Justin Kurzel
prd Anna McLeish, Sarah Shaw
with Louise Harris, Corey Knoblauch, Craig Nielsen, Angela McCann
---
Big World
dir-scr Warwick Thornton
prd Kath Shelper
with James Fraser, Henri Phillips, Nikita Leigh-Pritchard
---
prd Robert Connolly
release Aus 26.Jan.14,
US May.14 siff, UK 30.Jan.15
14/Australia 1h47
---
BERLIN FILM FEST

R E V I E W B Y R I C H C L I N E
Based on nine short stories by Australian writer Tim Winton (pared down from a three-hour version with 18 stories), this anthology explores life-altering moments with raw emotional honesty. While each short has its own style, tthere's an open humanity that adds depth even if each plot feels like a mere wisp of an idea.

The framing story is the ethereally animated Ash Wednesday, using the TS Eliot poem to explore the idea of communal memory. These darker ideas linger in Aquifer, in which a news headline triggers a memory for a man (Mulvey) who witnessed a tragedy as a young boy (Bryans). Sand is a darkly poetic day out for two brothers (Jakory and Jarli-Russel Blanco) who get into some trouble while playing in the dunes. And Commission features a young man (McConville) travelling into the Outback to tell his estranged father (Weaving) that his mother is dying.

Lighter themes echo in Reunion, which stars Blanchett and Roxburgh as a couple dreading Christmas with his mum (Nevin), although the day takes a silly turn. In Big World, a guy (Fraser) takes a road trip with his loser pal (Phillips) and sees what he thinks is the natural order of things take a spin. Cockleshell is a nostalgic glimpse of first love as a teen (Wallace) tags along spear-fishing with the neighbour (Harding) he has a crush on. And in Boner McPharlin's Moll, a group of people reminisce about their town's most notorious resident, but can't separate truth from myth.

The collection's most striking clip is Long, Clear View, about a young boy (Shanley) who can't quite understand what society expects of him, so he decides to play with his dad's rifle. And the most bracing performance comes from Byrne in The Turning, as a beyond trailer-trash mother with a rough husband (Nable) who rethinks life and, most surprisingly, religion when when she befriends a wealthier neighbour (Otto).

Each of these films is immaculately produced, with first-rate production values and striking visual imagery. Several segments are dialog-free and one is documentary-style, but all of them get deep beneath their characters' skin to reveal motivations and connections. Intriguingly, most feature characters with the same names, reinforcing the sense that the situations and feelings are universal. So even if the parts are sometimes vague and elusive, as a whole the film leaves us exploring our own lives for common threads that may help us with our next transformation, whatever that might be.
| | | |
| --- | --- | --- |
| | themes, language, violence, sexuality | 7.Jan.15 |