dir Catherine Hardwicke
scr Morwenna Banks
prd Christopher Simon
with Drew Barrymore, Toni Collette, Dominic Cooper, Paddy Considine, Jacqueline Bisset, Tyson Ritter, Honor Kneafsey, Ryan Lennon Baker, Frances de la Tour, Anjli Mohindra, Mem Ferda, Janice Acquah
release UK 25.Sep.15, US 6.Nov.15
15/UK 1h52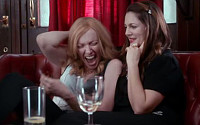 Best friends forever: Collette and Barrymore



---
TORONTO FILM FEST
R E V I E W B Y R I C H C L I N E

A moving drama with a realistic comical edge to it, this film tackles terminal illness and infertility through the prism of life-long friendships. Yes, it's a pretty ambitious project, but the originality of the concept and the honesty of the approach make it engaging and entertaining, as well as deeply moving.

Jess and Milly (Barrymore and Collette) have been best pals since childhood, supporting each other through thick and thin, bringing their respective spouses Jago and Kit (Considine and Cooper) into the team, plus Milly and Kit's two sparky kids (Kneafsey and Baker) and Milly's drama-queen mother (Bisset). Then just as Jess and Jago begin fertility treatment, Milly is diagnosed with invasive breast cancer. When Jess finds herself pregnant, she hides the news from Milly to protect her. And with her illness taking a strain on her marriage, Milly searches for excitement with a barman (Ritter).

Even though it seems to be set in an almost idyllic version of eclectic London, Banks' script keeps the drama honest and remarkably raw, with a brittle sense of humour underpinning even the darkest emotional moments. Which makes the film almost startlingly easy to identify with, especially for anyone whose life has been touched by cancer or infertility. Unlike other movies, these big challenges don't make the characters lose their humanity. Indeed, the jokes get dirtier.

While the story essentially takes Jess' perspective, it's Milly who has the far more eventful journey. And it's a role that gives Collette plenty to work with, maintaining Milly's rock-chick vibe even at the depths of medical treatment or personal failure. Collette anchors several seriously wrenching scenes, and is beautifully balanced by Barrymore in one of her strongest roles yet: a demanding dramatic part that draws on her impeccable comic timing. Cooper and Considine also have complex roles as spouses who are much more than long-suffering. Both add telling angles to the relationships.

Aside from an obsession with London architecture, Hardwicke adds a clear-eyed intensity to the characters that brings out both their individual quirks and their communal strength. The only simplistic thing about this film's depiction of friendship is the script's dramatic structure, which gyrates through the usual beats. But when the people and situations are this earthy and honest, that's never much of a problem. And in the end, the film accomplishes something that isn't as easy to do as it sounds: it reminds us just how important our friends are.
| | | |
| --- | --- | --- |
| | themes, language, sexuality | 2.Sep.15 |