dir Alfonso Gomez-Rejon
scr Jesse Andrews
prd Jeremy Dawson, Dan Fogelman, Steven M Rales
with Thomas Mann, RJ Cyler, Olivia Cooke, Nick Offerman, Connie Britton, Molly Shannon, Jon Bernthal, Katherine C Hughes, Matt Bennett, Masam Holden, Bobb'e J Thompson, Hugh Jackman
release US 12.Jun.15, UK 4.Sep.15
15/US Fox 1h45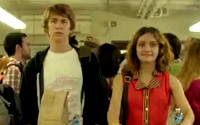 Navigating the cafeteria: Mann and Cooke



---
SUNDANCE FILM FEST
R E V I E W B Y R I C H C L I N E

A sense of curiosity infuses this teen drama, which deals with the issue of death with more honestly, warmth and artistry than the similarly themed The Fault in Our Stars. Adapting his own novel, Andrews' script is rather overwritten, so it sounds more like a nostalgic adult than realistic teens. But the film is packed with insight and meaning.

As he starts his senior year, Greg (Mann) and his pal Earl (Cyler) secretly continue to make pastiche versions of classic films and hang out with their super-cool history teacher (Bernthal). Then Greg's mother (Britton) asks him to spend some time with neighbour Rachel (Cooke), who has just been diagnosed with leukaemia. And both are surprised when their friendship blossoms over the course of the school year. As Greg tries to encourage Rachel not to give up on life, he is challenged to find his own voice and make an original movie for her.

Mann is terrific as the self-doubting teen who overcompensates with intelligence and wit, but finds himself weighed down by what he sees as his own awkwardness. He has terrific, barbed chemistry with everyone around him, including his oddball dad (Offerman), Rachel's lubricated mom (Shannon) and the class hottie (Hughes). Cooke has several remarkable moments of her own, while Cyler adds some very strong edges to the bond between childhood "coworkers" Greg and Earl.

The film earns extra points for letting Greg and Rachel connect without forcing a romance, even if the narrative falls into the tired rom-com structure. At least the sentimentality is kept under control. And the teens look and behave like young people still trying to work out how to interact with each other, even if what they say feels like it has been written and rewritten to perfection. But the way the story plays out touches several raw nerves, and the mix of comedy and emotion is very real.

Ultimately this feels like a lot more than a coming-of-age film. Essentially, the central theme is that none of us see ourselves clearly, and our voyage of self-discovery never ends. And even after someone dies there's still a lot we can learn about them, but only if we're open to the world around us. And without ever laying these ideas on too thickly, the mesh of characters in this film gives us a nudge in the right direction.
| | | |
| --- | --- | --- |
| | themes, language, innuendo | 1.Sep.15 |