dir Baltasar Kormakur
scr William Nicholson, Simon Beaufoy
prd Tim Bevan, Eric Fellner, Nicky Kentish Barnes, Liza Chasin, Evan Hayes, Brian Oliver, Tyler Thompson
with Jason Clarke, Josh Brolin, Jake Gyllenhaal, Emily Watson, Sam Worthington, Robin Wright, Keira Knightley, John Hawkes, Michael Kelly, Elizabeth Debicki, Martin Henderson, Naoko Mori
release US/UK 18.Sep.15
15/UK Universal 2h01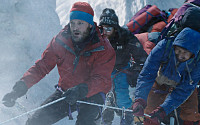 Into thin air: Clarke leads the climb



---
VENICE FILM FEST
R E V I E W B Y R I C H C L I N E

Strikingly well-shot and acted, this film simply doesn't have a story that makes for engaging cinema. As it zips around between a varied ensemble, the efforts of the filmmakers to drum up sympathy are almost painfully obvious, from lots of on-screen emoting to Dario Marianelli's pushy, too-majestic score.

By 1996, climbing Everest was big business, and that spring 20 groups jostled for space on the slopes. Kiwi guide Rob (Clarke) leads his high-paying clients with caution, including a hothead Texan (Brolin), a journalist (Kelly), a guy (Hawkes) who just missed the summit on his previous attempt and a woman (Mori) seeking her seventh of the seven highest peaks. Base camp manager Helen (Watson) runs a tight ship, and with the overcrowding, Rob is coordinating with rival guide Scott (Gyllenhaal). But after making it to the top, a storm threatens their descent.

Icelandic filmmaker Kormakur keeps everything looking spectacular, mixing Salvatore Totino's crisp cinematography with lots of digital swooping around the mountain top. Although keeping the actors visible in their winter garb is a challenge that sometimes gets the better of the filmmakers, especially in a battering snowstorm. But the bigger problem is that the ensemble of characters never quite connects with the audience, mainly because the script tries too hard to crank up the emotions.

There isn't a weak link in the cast, and most actors inject quite a bit of personality even into the marginalised roles. But every time Clarke's level-headed mountain man gets on the phone with Knightley as his pregnant (ominous chord!) wife back home in Christchurch, the plot creaks. Brolin and Wright have similar conversations, underscored with nicely brittle drama but just as manipulative. Gyllenhaal offers a blast of fresh air as the overreaching action dude, and Worthington is oddly sidelined as a friend on a neighbouring peak.

Through their ordeal, it's rather difficult to sympathise with inexperienced climbers who have paid a vast sum of cash simply to add their list of achievements, oblivious about the risks to their own safety and, even worse, putting others in jeopardy by their bullish insistence that they get their money's worth. At least this adds a sobering meaning to the film. Because if any old millionaire can pay to ascend Everest, how significant is the summit? And how much more tragic is it that so many people have died there?
| | | |
| --- | --- | --- |
| | themes, grisliness | 14.Sep.15 |