dir Al Pacino
scr Oscar Wilde
prd Barry Navidi, Robert Fox
with Jessica Chastain, Al Pacino, Roxanne Hart, Kevin Anderson, Joe Roseto, Steve Roman, Geoffrey Owens, Daryl Dismond, Jack Maxwell, Tim Dvorak, Jack Stehlin, Ralph Guzzo
release US 10.Aug.13, UK 21.Sep.14
13/US 1h18


Power play: Pacino and Chastain



---
See also:


R E V I E W B Y R I C H C L I N E

As Oscar Wilde's scandalous play is staged in Los Angeles, Al Pacino shoots both a movie version and a backstage documentary. This is the play on film, complete with stage-style performances and stiff readers' theatre staging by director Estelle Parsons. So it's very odd on-screen. Because only Chastain in the title role seems authentic.

Just before Jesus' execution, Herod (Pacino) is holding a banquet in his villa. His petulant stepdaughter Salome (Chastain) leaves in a huff, chatting on the roof terrace with her father's guard, including Narraboth (Roseto), who has a crush on her. But she's interested in the prisoner Jokanaan (Anderson), aka John the Baptist, who's in a nearby pit. When he refuses her advances, Narraboth goes into a suicidal funk and Herod and his wife Herodias (Hart) emerge to see what the commotion is about. In a drunken, flirty mood, Herod offers Salome up to half of his kingdom if she'll dance for him.

The biblical story is familiar, but watching it played in such a heightened way brings out darker themes in Wilde's work. It's very intense, weaving sexuality and politics into a relentless power-play between a leery old man and a young woman who knows how to torment him. When she demands Jokanaan's head on a silver charger, Herod is horrified, because he's frightened of the prophet's ability to ruin his life. And clearly Salome's intent is to drive him further round the bend. No wonder her oppressed mother is so proud of her at this moment!

Shot in close-up, the performances are seriously odd. The controlled staging emphasises the class status: soldiers never move, while Herod and his family prowl and slouch. Pacino goes way over the top in his role, slurring his words and oozing oily charisma. It's like a cross between his louche gangster in Scarface and his Satan in The Devil's Advocate. The other main players match his lip-smacking bravado.

Chastain is the exception, giving Salome a subtlety that continually catches us by surprise. She layers in so much emotion and rage that we root for her to smack Herod right off his throne. She even channels this inner energy into her dance of the seven veils, which is both confrontational and seductive. She's enough reason to see this film. As is the background it offers before going on to Pacino's excellent behind-the-scenes documentary Wilde Salome.
| | | |
| --- | --- | --- |
| | themes, violence | 24.Jul.14 |
Wilde Salomé


dir-scr Al Pacino
prd Robert Fox, Barry Navidi
with Al Pacino, Jessica Chastain, Estelle Parsons, Bono, Gore Vidal, Tom Stoppard, Tony Kushner, Merlin Holland, Barry Navidi, Jack Huston, Kevin Anderson, Roxanne Hart
release UK 21.Sep.14
11/US 1h35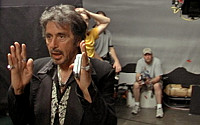 A man on a mission: Pacino



---
See also:


---
VENICE FILM FEST
R E V I E W B Y R I C H C L I N E

Ambitiously digging into the themes of Oscar Wilde's Salome, Pacino's documentary covers the stage and film productions along with an exploration of Wilde's life. This gripping film also reveals Pacino's inquisitive mind and willingness to leave answers open-ended, which lets ideas hover in the air. It's rather indulgent, but also cleverly provocative.

While working with director Parsons on the Los Angeles stage production and producer Navidi on the film, Pacino explores both Salome and the playwright himself, travelling to Dublin, London and Paris to see where the play was written and get a feel for Wilde's life and inspiration. Salome's story and Wilde's life unfold in parallel, with echoing issues of sexuality, justice and tragedy. Through all of this, Pacino struggles to understand the play and its complex layers of deep meaning, becoming almost overwhelmed by the task of putting it on stage and film.

Yes, there's a lot going on in this documentary, which certainly doesn't take a linear journey through the subject matter. It pings around from stage to film set to meetings and dressing rooms, then to the streets of Europe. Not everything links together logically, but by swirling everything into a kaleidoscopic mix, Pacino brings out fascinating parallels between Wilde, Salome and the process of artistic creation. Most notable is the quest for truth beneath the surface, a sense of the man behind the legend.

Pacino is clearly a massive Oscar Wilde fan, overwhelmed when he visits places the writer lived and worked, and speaking of Wilde's two years in prison with hushed horror. He also taps his pals Vidal, Stoppard and Kushner for pithy, telling comments about Wilde's life and work, plus Bono, who is apparently only here because he and Wilde are both Irish, and yet he offers some striking observations. And Holland, Wilde's great-grandson, makes several important comments as well.

The condensed tracing of Wilde's life is a bit simplistic, as is the unnecessary inclusion of major chunks of Pacino's filmed version of Salome. But it's great to see Pacino's off-screen wit, which is often hilariously self-deprecating. The film also finds a continual stream of intriguing undercurrents that link Pacino's quest with both Wilde and Salome. Some of this offers revealing context for the play, but the more interesting aspect is what it says about Pacino's passion for art, and how actors revere the author of the words they speak.
| | | |
| --- | --- | --- |
| | themes, language, violence | 24.Jul.14 |
R E A D E R R E V I E W S


Still waiting for your comments ... don't be shy.
© 2014 by Rich Cline, Shadows on the Wall
HOME | REVIEWS | NEWS | FESTIVAL | AWARDS | Q&A | ABOUT | TALKBACK